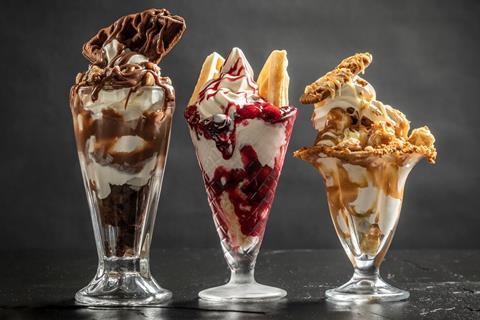 Barry Callebaut, Dawn Foods and Macphie have unveiled new ingredients for the baking industry.
Here, British Baker looks at the innovations: a low-sugar, high-cocoa chocolate; icing inspired by the specaloos biscuit; and new sweet dessert topping sauces.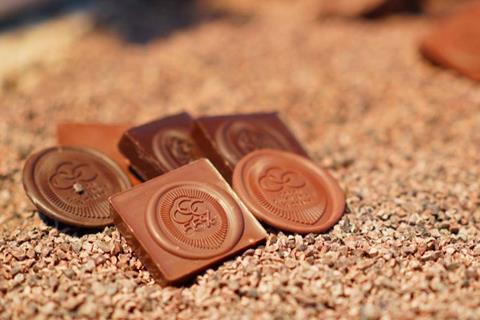 Barry Callebaut, CCC chocolate
Barry Callebaut has launched a lower-sugar chocolate made using a new production method.
The supplier has described the innovation as the 'second generation' of chocolate and claims it offers a higher cocoa content and purer cocoa flavour than traditional chocolate.
It is produced using a new system of farming, fermenting and roasting that Barry Callebaut has dubbed Cocoa Cultivation & Craft (CCC). This has been developed over more than 20 years, with the business collaborating in the research with the Jacobs University Bremen, Germany.
Describing CCC chocolate as "as pure as it can be", the supplier said the dark chocolate (75% minimum cocoa content) contains just two ingredients, cocoa and sugar, while only milk is added to make the milk chocolate (minimum 50% cocoa content). Chocolate typically contains between six and nine ingredients.
Barry Callebaut claimed its CCC chocolate contains 50% less sugar than more than 80% of the chocolate consumed across the world.
"The second generation of chocolate addresses perfectly the changing consumer preferences and consumers' desire to indulge more mindfully," said Barry Callebaut Group CEO Peter Boone. "It will inspire and support brands and artisans to craft their next-generation chocolate creations and is testament to our leadership in shaping the future of chocolate indulgence."
News of the Barry Callebaut innovation comes just weeks after Puratos-owned Belgian chocolate brand Belcolade launched what it describes as a "first-of-its-kind" chocolate.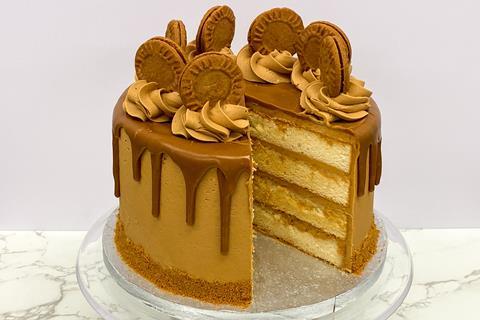 Dawn Foods, caramel biscuit flavoured fudge icing
Dawn Foods has developed a new variant of its fudge icing inspired by caramel biscuits.
The business described the icing, which is made with natural colours and flavours and is suitable for vegans, as having "the distinctive sweet and slightly salty flavour of the hugely popular caramel specaloos biscuit".
Suitable for applications including doughnuts, drip cakes, sheet cakes and cheesecakes, the icing can be used straight from the pail and just needs to be warmed to ensure it can be easily piped.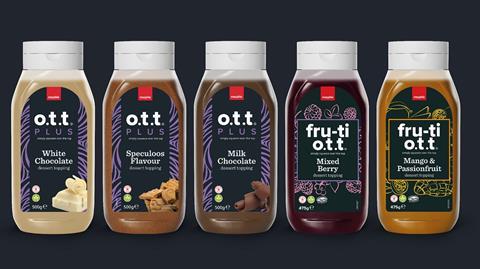 Macphie, OTT topping sauces
Macphie is aiming to tap the boom in dessert parlours with the launch of two new ranges under its OTT toppings brand.
OTT Plus comprises three topping sauces: speculoos, milk chocolate and white chocolate that are all described as having a velvety finish.
OTT Fru-ti comprises two sauces: mixed berry and mango & passionfruit that contain fewer calories than usual dessert toppings, according to Macphie.
The business has invested £30,000 in the creation of the new lines following strong growth in the dessert parlour market. Macphie said the 11 top operators had expanded by 42% since 2018 and were on track to exceed a total of 400 outlets this year.
"After spotting an opportunity in the market for premiumisation, we wanted to ensure that we were meeting and catering for these emerging trends by taking things up a notch," explained Macphie marketing and insights manager Kirsty Matthews.
"Dessert parlours are pushing boundaries and need products that match that - we feel that we have achieved this and more."
Macphie has also revamped three of its sauces in the original OTT range, improving the flavour and reducing the sugar content of its Belgian chocolate and toffee toppings while refining the taste, texture and mouthfeel of its strawberry sauce.