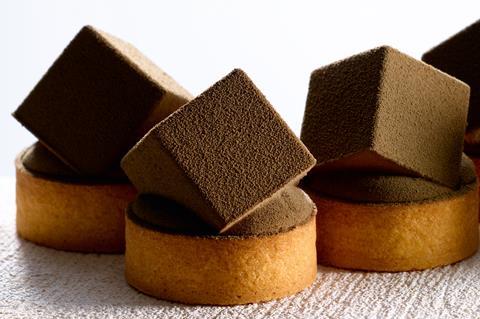 Dawn, Renshaw and Puratos are among the businesses to roll out new ingredients for the baking industry.
Here, British Baker looks at the latest ingredients NPD including a preservative-free emulsifier, a starch toppings adhesive and a 'first of its kind' chocolate.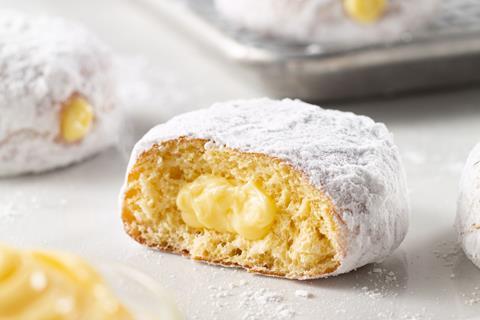 Dawn Foods, vanilla flavour creme filling
Dawn Foods has launched a vegan-suitable vanilla flavour creme filling made without titanium dioxide.
Titanium dioxide is used as a whitening agent in many bakery and confectionery products and, although legal in the UK and US, it is banned in Europe.
Dawn said using a titanium dioxide-free creme filling would give bakery manufacturers peace of mind, particularly if they are supplying into European markets.
Suitable for applications including filling doughnuts, pastries and muffins, the new filling is described as having a smooth texture and sweet and creamy vanilla flavour. It is ready to use straight from the pail and is freeze/thaw stable.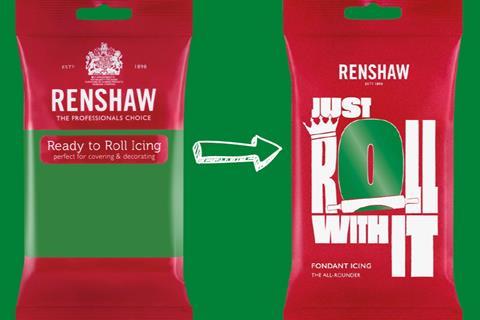 Renshaw, fondant icing
Renshaw has improved the recipe of its ready-to-roll icing and is relaunching it with a new name and packaging for the retail market.
The new recipe is described as having more vanilla flavour and being easier to knead, roll and to correct slight imperfections.
Bulk trade packs will contain the new recipe but the name of the product will not be changing for the trade channel.
The ready-to-roll icing will be renamed as 'fondant icing' for the retail channel and will be given a packaging revamp that includes step-by-step guides on the back of packs along with tips and a QR code for further inspiration.
"Changing the name from ready to roll icing to fondant icing did generate some debate, but the products aren't ready to roll, you need to knead the product a little to wake up the gums so ultimately the change for our consumer packs makes much more sense," said Renshaw product manager Hannah Kennedy.
"Our bulk sugarpaste products have always had a different name to the consumer packs and while they will benefit from the new improved recipe, the name will remain unchanged as fondant has a different meaning to a manufacturer."
Baking Brothers, Baking Elixir
Baking Brothers, which is owned by Create Better Group, has launched a preservative-free emulsifier that it claims is a "game changer".
The brand says its new Baking Elixir can improve texture, structure and volume, and keep cakes fresh for seven days without preservatives.
Bakers need to add the equivalent in Baking Elixir of 2% of the total weight of ingredients. Baking Brothers explained that the product works by interacting with other ingredients in the batter, dispersing completely while reducing mixing time by up to 50%. It said the Elixir secures a fine distribution of ingredients and air bubbles during baking, giving enhanced freshness, lightness and moisture to the final product.
"Elixir can be used in so many baking recipes such as cakes, cookies, scones, doughnuts and more, to minimise dryness, improve shelf life, texture, structure and volume of the end bake," said Create Better Group product sourcing manager Kerrie McCarthy.

Loryma, Lory Starch Opal
Loryma has launched a new starch for use as an adhesive for seeds and decorative seasonings.
Supplied as a white, free-flowing powder, the starch is mixed with water to create an instant product that does not sediment and is suitable for artisanal and industrial production.
The modified pregelatinised wheat starch has a low, cold viscosity, making it suitable for spray application. Spraying offers hygienic advantages, points out Loryma, as it means brushes or immersion baths do not come into contact with dough.
"Manufacturers want less rejects, while consumers want an appetising product," said Norbert Klein, head of product development at Loryma.
"Lory Starch Opal meets both these demands: decor, grains and seeds adhere firmly and the glossy surface means the baked goods make a fresher impression."
Germany-based Loryma, part of the Crespel & Deiters group, produces wheat proteins, native and modified wheat starches, extrudates and functional blends.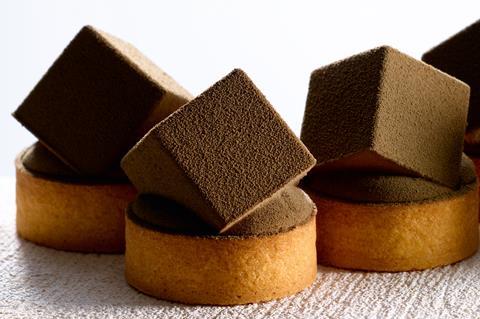 Belcolade, So'Choc Cacao-Trace
Puratos-owned Belgian chocolate brand Belcolade has launched what it describes as a "first-of-its-kind" chocolate.
The new chocolate, called So'Choc Cacao-Trace, is a combination of fermented cocoa sourced through Puratos' sustainable Cacao-Trace program and fermented buckwheat. The business claimed the unique combination of fermented ingredients and a patented manufacturing process had achieved a "sensorial experience unmatched on the market".
In Puratos' own words, So'Choc is a 66% non-sweet dark chocolate, "offering subtle head notes of cereals to start, followed by powerful fruity heart notes with a spark of acidity in the mid-tasting experience, landing softly with round cocoa base notes for a pleasant lingering mouthfeel".
The business said So'Choc could be used in chocolate products including tablets, ganaches, mousses, cremeux and sauces.
"With So'Choc, we have used our vision and expertise to proactively adapt the fermentation process," said Puratos chocolate director Youri Dumont. "This makes a positive impact on flavour development, enabling us to create a flavour journey that's never been seen or tasted before."
So'Choc is being launched alongside a refresh of the Belcolade brand that includes a new style for packaging, visuals and communications.