Sprouted oats, vegan-friendly stabilisers and ultra-premium cacao are among the latest ingredients to be made available to the UK bakery market
Here, we look at some of the recent launches: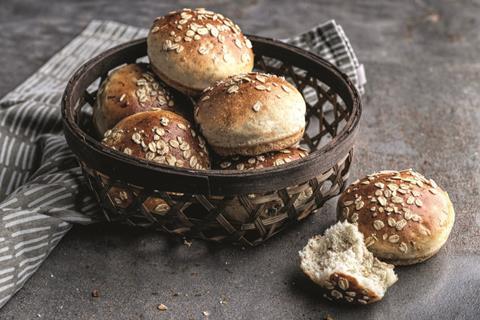 Sproutgrain Oat, Puratos UK
Puratos UK is tapping into the trend for sprouted grains with two new launches – Sproutgrain Oat and Softgrain Sprouted Oat.
Sproutgrain Oat is made of oat kernels, which have been sprouted and fermented to deliver a 'sweet and creamy' taste. Softgrain Sprouted Oats, meanwhile, consists of sprouted oat grains that are cooked and infused with oat sourdough to deliver a 'unique flavour with fermented sourdough notes'. Rich in vitamins, minerals, fibre and wholegrain, the new additions offer both convenience and versatility and can be used in a host of sweet and savoury applications, according to the firm.
Puratos said it achieves the sprouting thanks to 'unique technology' with only three ingredients – grains, water and air to promote natural fermentation.
"Puratos Sproutgrain Oat is an innovative and convenient solution for bakers that takes away the complexity of controlling the sprouting process themselves," said Philippa Knight, marketing director at Puratos UK. "The product is extremely versatile and offers real differentiation, providing them with a simple way to reinvent the current bread category."
The products are available in 10kg pouches, which should be kept chilled, and have a shelf life of three months.
Gelatine-free fond, Dawn Foods
Dawn Foods has further expanded its range of vegan ingredients with the launch of a range of gelatine-free fonds designed to stabilise non-dairy and plant-based creams.
Designed for use in mousses, bavarois and other cream-based desserts, they enable bakers to stabilise, gelatinise, flavour, and sweeten cream in finished products without using animal gelatine. Bakers just need to add the powdered fond to the chosen base flavour – such as a compound, fruit puree of liquid – and mix together with water and whipped dairy cream for a vegetarian bavarois or mousse or whipped dairy-free cream for a vegan alternative.
The fonds are available in fruity, sweet and chocolate variants and can be used with dairy and non-dairy products alike, which Dawn said could help save costs on buying different ingredients. They are also freeze and thaw stable.
Gluten-free flours, Eurostar Commodities
Ingredients supplier Eurostar Commodities has expanded its range of gluten-free flours.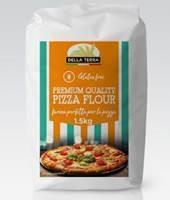 The range now includes Gluten Free Chapati Flour in brown, medium brown and white variants. The flour produces a 'workable dough' that results in a chapati with 'softness and flexibility'.
Della Terra Gluten Free Pizza Flour is another addition. The premium white flour is described as 'very versatile' and can be used for pizza bases as well as ciabatta and focaccia with the added benefits of being higher in fibre. Both are available in 1.5kg and 3kg bags and 12kg cases.
"We want to make it easy for manufacturers to deliver gluten-free products to their customers," said Eurostar Commodities MD Philip Bull. "We have committed substantial resources to developing a range that delivers high quality flour that performs as well as, or better than a product that contains gluten. It has been a real journey to work with new ingredients to create the perfect recipes that we believe we have achieved."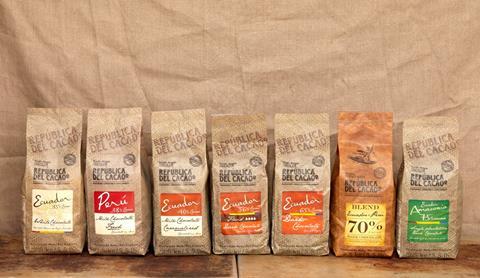 Republica del Cacao, Henley Bridge
Chocolate distributor Henley Bridge is bringing a high-end South American chocolate, Republica del Cacao, to the UK.
The ultra-premium fine cacao chocolate range includes six single origin variants and one blended chocolate, all of which are 100% traceable and sustainable, Henley Bridge said. The full range comprises:
White chocolate 35%, Pure Ecuador, 2.5kg
Milk 38%, Pure Peru, 2.5kg
Milk 40% Caramelised, Pure Ecuador, 2.5kg
Dark 56%, Pure Ecuador, 2.5kg
Dark 65%, Pure Ecuador, 2.5kg
Dark 70%, Ecuador & Peru, 2.5kg
Dark 75%, Amazonia, 2.5kg
Described as a 'local brand with global impact', Republica del Cacao's ingredients are grown by independent farmers and small co-operatives.
"Republica del Cacao is the chocolate of choice for many of the world's finest pastry chefs, bakers and chocolatiers – and this is the first time that it has been made available to professionals in the UK," said Tracey Hughes, managing director of Henley Bridge.
"Not only is it a brand of the utmost quality, it is also produced to meet the highest standards of social and environmental performance, with authenticity and community at the heart of everything they do. Today's discerning consumers are increasingly looking for luxury products which have been produced in an ethical way, and Republica del Cacao delivers on every level.
Henley Bridge is the exclusive distributor of the range in the UK and said it will be supporting chefs and chocolatiers with product training and recipe development to help them make the most of it.