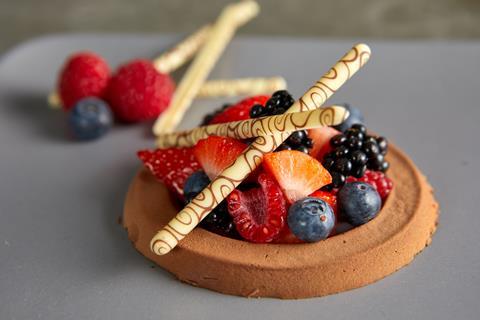 Fruit purees, fudge icing and a vegan-friendly plant-based cream that can be whipped to three times its volume are among the latest ingredients to hit the UK bakery market.
We take a closer look at some of the recent launches: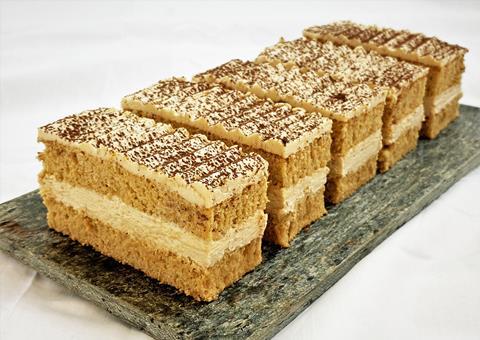 Dawn Foods
Dawn Foods is tapping the trend for coffee shop flavours with a new Cappuccino Fudge Icing.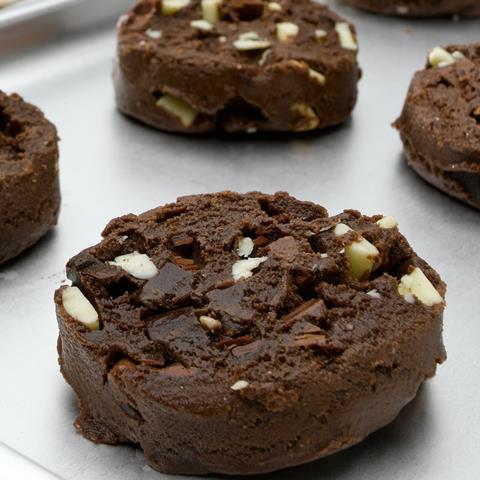 Its 'mild milky flavour' is described by the brand as a complementary addition to both chocolate or plain bases. The fudge, which needs to be warmed to 40-50°C, can be used for sandwiching and decorating classic layered or sheet cakes as well as muffin, cupcakes, doughnuts, pastries and desserts. Available in a 10kg pail, it joins the existing chocolate, coffee, lemon, strawberry, raspberry and white chocolate variants.
The ingredients supplier is also targeting smaller bakeries and catering outlets with cookie puck packs containing 20 pre-portioned pieces. The American-style frozen ready-to-bake cookies are available in Belgian Triple Chocolate, Belgian Double Chocolate, and Belgian White Chocolate & Raspberry flavours and take 12-14 minutes to bake.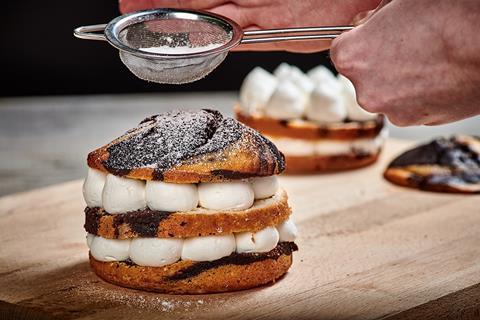 Macphie
Macphie has debuted a vegan-certified Plant-based Cream Alternative which can be poured and piped as well as whipped to three times its volume.
Suitable for fillings in cheesecakes, tiramisu, mille-feuille and cakes as well as toppings for hot and cold drinks, the product is sold in 12x1 litre cases.
The NPD joins Macphie's 39-strong existing vegan product offering which now includes a plant-based glaze for sweet and savoury bakes, vegan cake mixes and frostings.
"With the big high street chains offering vegan cakes, and supermarkets expanding their ranges every day, the bakery sector simply can't afford to miss out on this key trend," said Macphie's head of marketing Anna Massie. "We want to make sure our range caters for free-from diets that respects consumer choices and provides variety without compromising on quality or taste."
The cream is said to be freeze-thaw stable when whipped.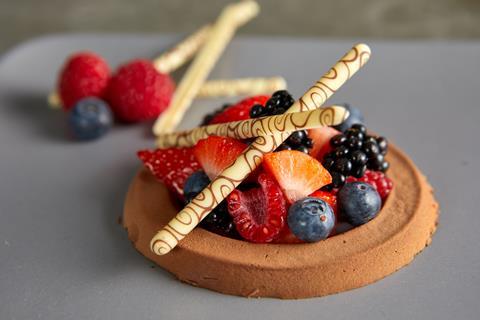 Henley Bridge
Batons, pencils and rizo curls are among a 49-strong selection of chocolate décor NPD launched by Henley Bridge under its Hillbo label.
The independent chocolate distributor said the treats were a quick and easy way to add finishing touches to cakes, ice creams and desserts. They are available in a rainbow of colours including silver, purple, gold and blue.
A six-strong range of ready-to-use ambient fruits purées from French manufacturer Boiron has also been made available. Aimed at time-pressed bakers and chefs, the strawberry, raspberry, mango, passion fruit, blackberry and yellow peach flavours, contain no added sugar and reduce labour by 'cutting out the need to wash, peel, de-seed, blend and sieve fruit'.
"The Boiron range is an ideal, time-saving solution for gastronomy professionals who need a quality product to create their dishes, desserts, smoothies and cocktails," said Tracey Hughes, Henley Bridge managing director.
The purees are presented in ready-to-serve, one litre cartons that are made using cardboard from FSC certified forests and feature a pouring spout for better quantity control.