John Lindsay has big ambitions for finished goods specialist Baker & Baker and if there's anyone well placed to lead the newly formed €400m company, it's him.
The firm struck out on its own earlier this year after CSM Bakery Solutions sold its European ingredients business to a subsidiary of Investindustrial.
"We're now able to fully focus on bakery products," Lindsay says confidently. "It gives us sharpness and 100% airtime."
Compared to the ingredients side, the products business is relatively youthful, he notes, while Craigmillar and Arkady are "real heritage" brands. Nevertheless, the products side grew rapidly, soon accounting for nearly half of CSM with plenty of potential for future growth.
We're now able to fully focus on bakery products. It gives us sharpness and 100% airtime
But right now, Lindsay explains, "we need to fully recover from the Covid crisis" and help customers do same. It's well known that foodservice, one of Baker & Baker's three core channels alongside traditional high street bakers and modern trade retail (supermarket in-store bakeries), was badly hit by the pandemic but the CEO expects to see "a strong rebound" as markets reopen.
He then plans to get the firm "back on the steep growth curve" which saw it blossom to 2,500 staff and 12 manufacturing sites serving seven countries. Seven for now, that is, as international expansion is a key part of Lindsay's growth agenda.
"Our international business was traditionally focused on ingredients and we know there is really significant demand for bakery products. If we look at the Middle Eastern and Asian markets – China in particular – there's a great hunger for these products, if you'll pardon the pun," he says.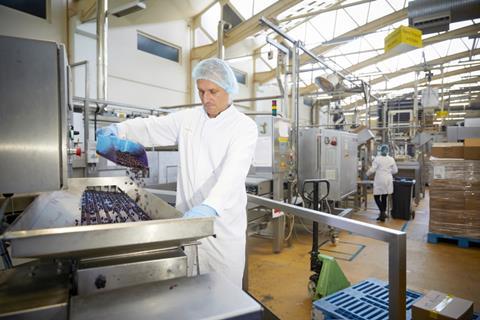 Existing business won't stagnate though, as Baker & Baker plans to build on its core markets of the UK and Germany while also developing France, Benelux and other southern European countries.
"When we look at what we're famous for, American bakery products, we still see them as rather youthful. The demographic for them is a younger clientele so we believe there is lots of headroom for growth right across Europe," he adds.
That said, Lindsay refuses to opt for a "one size fits all" approach and recognises that not all of Baker & Baker's brands need to exist in every market. The business will also stick to its principles when it comes to products, steering away from long-life, wrapped goods, for example. "We're very much built from the heritage in the DNA of the artisan baker. Everything we sell is either fresh or short shelf life, with very few preservatives," he explains.
Staying on trend
Staying abreast of trends is critical, particularly when dealing with younger audiences, but Lindsay believes working in partnership with key customers is also a very important part of the business.
"They have a very clear idea of where they're going and how they see the market developing," he explains.
The relationship with Mondelēz, which has been going for more than a decade and sees Baker & Baker manufacture a range of branded baked goods, also offers a "strong base to build on". Lindsay is keen to highlight that it's a "full-on partnership" rather than a toll manufacturing arrangement.
"We're not about putting an Oreo or Cadbury label on a random bakery product. It has to deliver," he adds.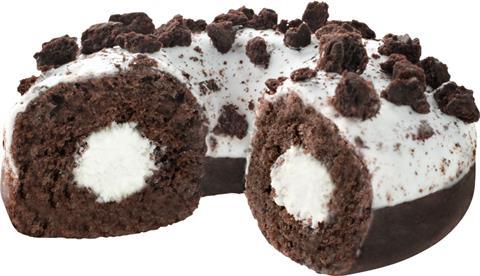 The Oreo doughnut – a bestseller comprising a chocolate ring doughnut with cream filling and white frosting and Oreo chunks (pictured right) – is an example of this ethos. It also highlights one of the most surprising bakery trends Lindsay has seen over his career – the transformation of the humble jam doughnut.
"If I go back 20 to 30 years, the doughnut was regarded as a greasy jam ball which was pretty unappealing. Since then, the doughnut market has developed, and we've been at the forefront of that. Now the humble doughnut is a whole category – I would never have guessed that."
While this trend has gathered momentum on the artisan scene in recent years, with the likes of Doughnut Time and Crosstown looking to make their mark, it dates back to the late nineties. Unilever, which at the time owned Craigmillar and British Arkady, invested in a large doughnut plant in the Wirral. "We quickly moved away from standard jam ball donuts – and introduced iced ring donuts, which have now become the industry standard," Lindsay says.
The doughnut market has developed, and we've been at the forefront of that. Now the humble doughnut is a whole category – I would never have guessed that
Despite the changes over the years, which saw CSM acquire all Unilever's bakery business across Europe in 2000, the whole business was then acquired by Rhône Capital in 2013. Baker & Baker has remained at its current Wirral headquarters, which is also home to the company's biggest manufacturing site.
A former Stork margarine factory, it now produces doughnuts, cookies, muffins, scones and other speciality bread products at scale. Baker & Baker's UK manufacturing portfolio also features a site in Ashington, West Sussex, which focuses on free-from products, as well as a facility in Bradford that mainly produces mini bites and cookies. Rounding off the quartet is its factory in Daventry, which creates a lot of products for coffee shops, often bespoke lines in smaller batches.
Lindsay has remained with the company under the various owners, starting as a national account manager, progressing to roles such as innovation director and latterly sales & chief commercial officer of Europe, before taking on his current role.
While he initially feared the split would be "incredibly complicated", it went fairly smoothly and was completed on time.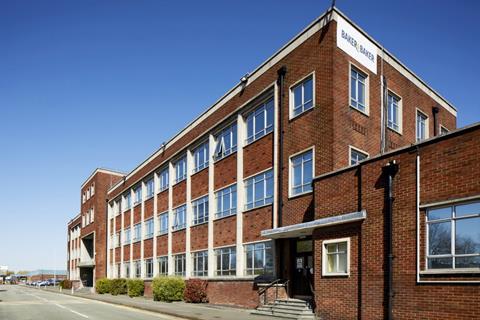 Challenges ahead?
Having navigated the split, Lindsay is now focused on future challenges. "Keeping pace and anticipating changes in consumer behaviour and demand is a major challenge for all of us in the food industry," he says. "Demand to constantly feed an innovation pipeline and meet consumer needs while managing any food legislation that is coming down the tracks is something we've always got to be up to speed with."
However, Lindsay insists the high fat, sugar, and salt (HFSS) legislation coming down the track should be regarded "as an opportunity rather than a threat", noting there are "fantastic opportunities for those businesses that can keep pace with trends, and anticipate them".
But as someone who's partial to a warm yum yum fresh off the line in Wirral, Lindsay isn't about to strip the indulgence out of Baker & Baker's products any time soon. "We'll provide alternatives and portion-controlled ones but, at the end of the day, everybody deserves a little treat so we're happy to provide those."