Urban Legend is causing quite the stir on the doughnut scene. Launched in August by ex-Graze boss Anthony Fletcher, it boasts "responsible indulgence" in the form of brightly coloured sweet treats.
British Baker caught up with Fletcher to find out more about how Urban Legend came to be and its plans for the future.
So why, of all the sweet treats, did Fletcher decide to reinvent the humble doughnut? "Doughnuts drive people wild," he says. "They have few redeeming features nutritionally, but nothing quite has a hold on the consumer like a doughnut."
Each of Urban Legends' sweet treats comes in around 150 calories. For comparison, a Krispy Kreme Original Glazed doughnut has 200 calories and a Sprinkles one from the doughnut giant clocks in at 262 kcal. There are nine varieties in the newcomer's range, including Bubblegum Burst, Glazy Days and Belgian Biccie with the sugar content per doughnut falling between 9.9g and 11g (see table).
| Name | Kcal | Fat (g) | Saturated fat (g) | Sugar (g) | Salt (g) |
| --- | --- | --- | --- | --- | --- |
| Urban Legend Glazy Days (per 100g) | 297 | 9.6 | 3.8 | 20 | 0.91 |
| Krispy Kreme Original Glazed (per 100g) | 384 | 15.9 | 7.5 | 24.2 | 0.47 |
| Urban Legend Glazy Days (per doughnut) | 149 | 4.8 | 1.9 | 9.9 | 0.45 |
| Krispy Kreme Original Glazed (per doughnut) | 200 | 8.3 | 3.9 | 12.6 | 0.24 |
"It's incredibly hard for consumers to change their habits," Fletcher says. "The idea for the product is the consumer doesn't have to change – the science does the hard work and removes that junk. The consumer doesn't have to pay more, and they don't have to take a hit on taste."
The technical challenge faced was not to be underestimated, particularly because of traditional doughnuts' heavy reliance on fat and sugar, leading the team to turn to material science.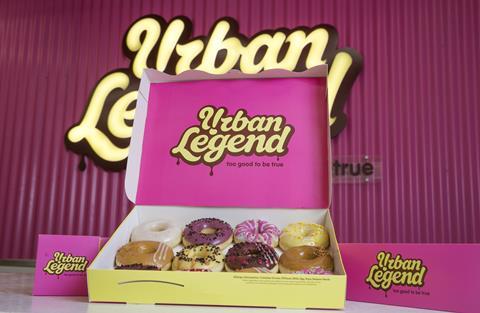 "There was no one magical ingredient or one tweak to a process to do this. The sugar and the fat plays so many roles in a doughnut we had to reinvent multiple techniques to get it to come together at a suitable quality," he adds.
Fletcher partnered with UK scientists, including Dr Chris Holland, senior lecturer in natural materials at Sheffield University, for the launch. They investigated the use of novel starch and protein technologies that allow the doughs to be 'set' by a beam of steam rather than deep fried with a micro layer of fat deposited on the outside.
Deliver a 'moment of shock'
So, how have Urban Legend's treats been received by doughnut lovers? "It doesn't make sense to consumers," Fletcher says proudly. "It doesn't make sense to them how a doughnut which looks and tastes like that is only 150 calories… This is what we set out to achieve."
Notably, the doughnuts aren't being marketed as a better-for-you treat as he explains that "how to position these products and market them is just as important" as the formulation. The first of the Urban Legend stores, which opened in Brighton, "does not look like a health store" and even features a giant doughnut chair for added fun.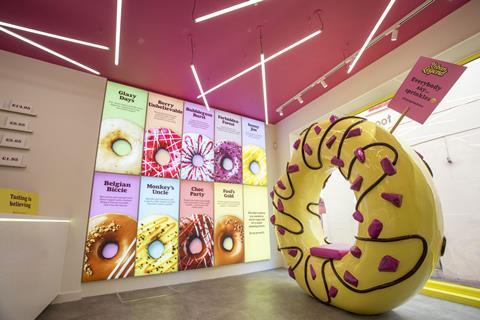 This is particularly important as he notes that "better for you cakes and doughnuts haven't got a proud history". While brands have ventured into the space, he believes "they haven't been rewarded with the sales as the consumer hasn't embraced them".
"The first thing is not to let the consumer think they'll be let down on the taste by coming inside," he adds. "It looks like a very contemporary, exciting brand."
However, Fletcher says, once inside you can explain to consumers about the nutritional credentials, which is often followed by a "moment of shock" upon tasting the treats.
Although Urban Legend won't put an exact number on it, more stores are in the pipeline and the brand is in talks with UK supermarkets. There's also scope to extend the techniques to help make other baked goods lower in fat and sugar.
"It's not about market share, it's about where the industry will have to go. If you resist it you will suffer and if you do it, sooner or later you will be rewarded because those stakeholders will make themselves felt," he concludes.