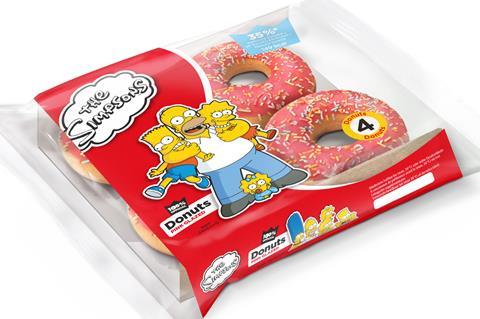 Baker & Baker is updating its Simpsons doughnut range produced under licence from Disney with new lower fat and sugar variants.
Available in strawberry and cocoa in 'key European markets' including the UK, Germany and France, the doughnuts are made with patented sunfry technology which Baker & Baker says 'preserves the product's softness and visual appeal' while a glaze and sprinkles are added for taste and texture.
The technology, installed at the firm's sites in Delmenhorst in Germany and the Wirral in England, means the doughnuts are fried as well as baked thus reducing frying time and resulting in a product that is lower in fat and calories, according to Baker & Baker. The manufacturer said the pink (strawberry) and brown (cocoa) doughnuts contain 38% and 37% less sugar respectively compared to the average doughnut and are also 46% and 62% lower in fat. Calorie content has been reduced by 20% and 27%, respectively. Both variants come in just under 150 calories per doughnut.
| Nutritional info (per 100g) | Pink doughnut | Brown doughnut |
| --- | --- | --- |
| Sugar (g) | 14 | 12.3 |
| Fat (g) | 12 | 11.5 |
| Kcals | 354 | 339 |
The doughnuts maintain the classic Simpsons look, with the yellow cartoon family appearing on the packaging, and are available in packs of four while the pink ones also come in trays of 12.
Baker & Baker has operated a licensing partnership with Disney for its Simpsons line of bakery products since the early 2000s, and the lower fat and sugar varieties will replace the existing range, as well as aligning with Disney's brand values of offering healthy options across its product portfolio.
It has also sought to reduce the amount of plastic used. By adopting film packaging, Baker & Baker has reduced the overall plastic content by 92%.
"Our longstanding partnership with Disney has delivered broad consumer affection for the iconic 'Simpsons' donut across almost two decades," said Peter Duncan, licensing director at Baker & Baker. "We're delighted to replace the existing range with our new lower fat and sugar varieties, which provide a healthier yet tasty option for families and calorie-conscious shoppers."
Healthier doughnuts are gaining traction in the market with ex-Graze boss Anthony Fletcher unveiling Urban Legend last summer. The brand specialises in doughnuts which are steamed rather than fried and have a micro layer of fat deposited on the outside.