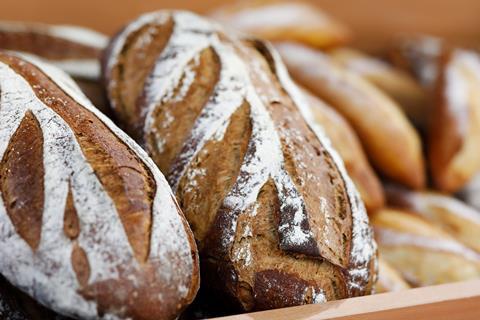 The Real Bread Campaign is calling on the Food Standards Agency (FSA) to make the Honest Crust Act a reality.
The proposed act outlines measures for improved loaf labelling and marketing laws in the UK to 'create a more level playing field on which SME bakeries have a better chance to thrive'. It includes the mandatory declaration of all additives, including processing aids, full ingredient labelling and the legal definition of 'wholegrain' and 'sourdough' – the latter, according to the Campaign, should only apply to loaves without additives and leavened with a live sourdough culture.
In an open letter to FSA chair Susan Jebb and FSA chief executive Emily Miles following the publication of the Agency's five-year strategy, Real Bread Campaign co-ordinator Chris Young asked if shoppers and bakers in the UK could count on the FSA's support in bringing the act to life.
"Today, I read the FSA's new, five-year strategy, underpinned by your mission to ensure a system in which food is safe, what it says it is, and healthier and more sustainable," Young said in the letter.
"In the FSA's roles as policy maker, regulator and watchdog, will you back the Real Bread Campaign's long-standing calls to ministers for improved regulations and then help to ensure that they are properly enforced? As an evidence generator, will the FSA also take a leading role in research to build on the compelling body of evidence that indicates there are health and nutritional benefits of selecting grains, ways of growing and milling them, then turning them into bread?"
Young said he agreed with the FSA's strategy to 'ensure food is authentic and properly described', adding that "history shows that it is regulation, rather than voluntary, opt-in schemes, that make it easier for businesses to meet their obligations and do the right thing for consumers".
Notably, a review of the Bread and Flour Regulations 1998 is underway and a Bread and Flour Technical Working Group comprising stakeholders that represent a cross-section of the supply chain has been set up to assist in the process. Topics up for discussion include sourdough labelling and fortification.