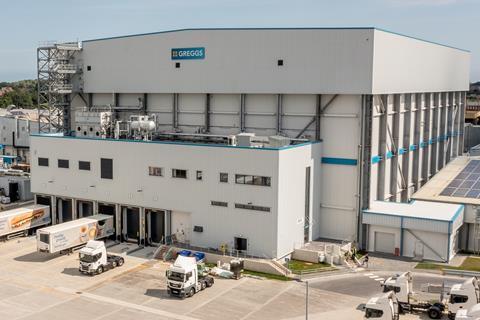 Greggs has opened a new 32m high bay frozen cold store at its Newcastle Upon Tyne production site.
Located between two existing manufacturing units at the Balliol Business Park, the automated facility will be used for the bulk storage of frozen products ready for distribution to the high street baker's stores across the UK.
Described as a fully 'lights out process' facility, the cold store will free up space on site as well as enabling efficient and faster delivery of finished goods to be baked in-store, Greggs said.
The facility includes six new loading docks, nine levels of automation and reduced oxygen fire suppression.
Clegg Food Projects, designer and constructor of food manufacturing and distribution facilities, was appointed as principal contractor for the project, making it the 20th large scale CAPEX scheme it has completed for Greggs, with a cumulative value of almost £100m.
John Moxon, business development director at Clegg Food Projects, said work started on the site in October 2019 following coordination meetings with the Greggs team and their specialist mechanical systems suppliers and logistics consultants.
Speaking about the new facility, Peter Boughton, senior project manager for the high street baker, said: "Designed with sustainability in mind, this project highlights our commitment to Net Zero Greggs with carbon efficiency considered at every stage of the construction process. A first for Greggs, the automated warehouse demonstrates our commitment to innovation and investment in our sites and the business."