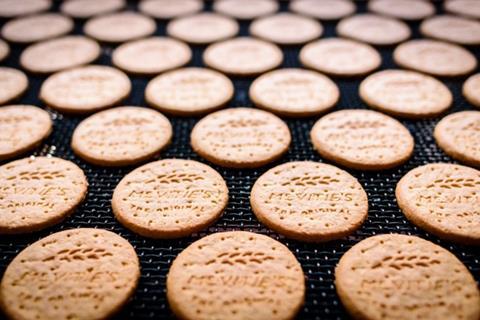 McVitie's owner Pladis has announced it will completely remove black plastic from its on-shelf portfolio by June 2021.
The initiative is one of several aiming to tackle plastic waste and reduce the company's environmental impact across its products and operations.
Pladis has also pledged to eliminate all PVDC film by June 2021 and prioritise the development of sustainable packaging solutions across its bestselling lines.
"Our plan to remove black plastic from our entire on-shelf portfolio by summer 2021 illustrates our commitment to making our packaging more sustainable and is one of many great strides we've made in this area," said Scott Snell, vice president of customer at Pladis UK&I.
The company has recently made changes to its packing across McVitie's products.
"Shoppers will have noticed the changes we've been making as they purchased their favourite festive biscuits in the lead up to Christmas," said Sylvain Cuperlier, head of sustainability at Pladis. "Last year we made some important adjustments to our bestselling McVitie's Victoria assortment, including downsizing the card outer and incorporating a fully recyclable cloudy plastic tray.
"By swapping the traditional black tray for a recyclable alternative, we were able to save over 60 tonnes of plastic from landfill over the festive period. These changes reflect our commitment to tackling plastic waste in response to the British public's justifiable concerns about packaging and sustainability."
Pladis says it has also reduced the height and board grade on outer packaging for the Jacob's Mini Cheddars brand, meaning it's possible to fit more boxes on trucks during transportation.
"By removing trucks from the road, we've been able to reduce our CO2 emissions by 127 tonnes per year," added Cuperlier.
"Similarly, through making changes to the cases which package our McVitie's Nibbles and Flipz products, we'll be removing 84 tonnes of CO2 from our supply chain annually. We've also redesigned our Jacob's caddies and our new, fully recyclable caddies will be in store later this year."