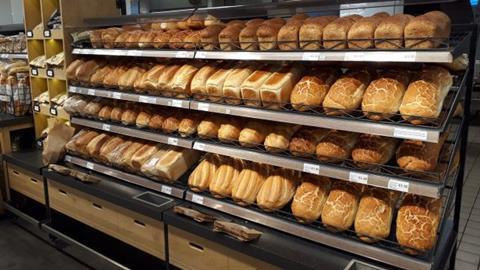 Tesco yesterday (25 February) announced it would axe scratch-baking in 58 stores and reduce it in more than 200 other sites.
The move, which Tesco said was designed to meet changing consumer demand, has put more than 1,800 bakery jobs at risk. Scratch-baking is being replaced or reduced in many stores with an increased bake-off range.
"We need to adapt to changing customer demand and tastes for bakery products, so that we continue to offer customers a market-leading bakery range in-store," stated Tesco CEO Jason Tarry.
British Baker has been gathering reaction to the announcement:
Bakery consultant
Brian Clarke, director, European Food Consultants
"The main operational benefits to Tesco will be: staff/labour savings and de-skilling; reduced floor area for production that will allow an increase in retail sales; reduced cost of capital and servicing; and a reduction in energy use.
"I don't see significant risks, as we have seen the growth of Lidl and Marks & Spencer, and consumers appear to engage with this approach and quality. Baking occurs on the shop floor in these stores, and they are growing.
"Other retailers may follow – it has been known for years that when scratch is compared to bake-off and all costs included, bake-off is cheaper to operate.
"Purists will argue and say products are not the same, but they are widely accepted by the consumer. Retailers are serving the mass, not the niche.
"This will benefit bake-off producers and manufacturer, who will see an increase sales, but there may be some loss to equipment suppliers."
A leading industry source
"It's an irony that, at a time when discerning customers are seeking out breads that have an artisan heritage, the leading UK supermarket is removing the one part of their store that offers an opportunity to differentiate themselves.
"Supply chain limitations will inevitably mean the revised offering risks being compromised, however good the intention.
"On the upside, it may offer regional bakers the opportunity to provide exciting new products to local stores and develop ranges to suit local tastes.
"We know there are very good bakers producing excellent products who are able to support this initiative.
"And, of course, it's good news for independent artisan bakers who produce the quality customers are seeking."
Globaldata
Thomas Brereton, retail analyst
"While the announcement of further job cuts at food and grocery market leader Tesco comes as little surprise, it contrasts heavily against comparable news from Asda and Morrisons earlier this year; rather than similarly reducing the number of management and back office staff roles, Tesco instead plans to cut almost 2,000 roles from its service-orientated in-store bakery offer.
"Although Tesco has attempted to justify the cuts by citing a "big shift in customer tastes and preferences", the move is likely more as a result of yet another bid to reduce operating costs and protect margins in the face of greater competition from the discounters Aldi and Lidl - an intrinsic theme of Dave Lewis' tenure as CEO."
Rich UK
John Want, marketing director
"As a long-term supplier to the Tesco in-store bakery, we have worked with the team there to ensure we are creating and delivering the right product for their consumers and their operators.
"Our own consumer research confirms the Tesco view that the shopper wants more artisan breads and a wider choice. Their priority is freshly baked bread and they assume anything else is 'bought-in'. Bought-in isn't a problem if quality and freshness cues are still evident.
"While we can appreciate bread, dough and ingredient suppliers will face additional challenges in this decision, we hope that our sweet bakery product and process innovations will continue to help Tesco deliver its bakery strategy."
Usdaw, union
Pauline Foulkes, national officer
"This is devastating and upsetting news for our members who work in the bakery operations. Usdaw will be entering into collective consultation with Tesco to consider the business case for these planned changes over the coming weeks.
"Many of those affected by the proposed changes are skilled workers. While we will do everything possible to maintain jobs or support impacted staff to redeploy into alternative roles, the reality is the opportunities to find suitable alternative skilled roles may be limited for these workers.
"Usdaw representatives will be available to support and advise affected members during this difficult time and throughout the consultation period."
Real Bread Campaign
Chris Young, coordinator
"Tesco has blamed its decision on 'a big shift in customer tastes and preferences. Customers are buying fewer traditional loaves…'
"This seems odd, as what we are seeing is people turning towards, not away from, lovingly crafted, delicious, nutritious, additive-free loaves.
"Perhaps people are split between those willing and able to pay an honest price for an honest loaf of Real Bread from a local, independent bakery, and those who'll accept a cheaply priced industrial loaf. Maybe what much of what supermarkets churn out falls between these two stools, if people find it doesn't have the same taste, texture and aroma, but it's not particularly cheap, either.
"To me the retailer's claim that it will be 'growing our regional bakery ranges in partnership with small local suppliers' seems to support this."
Asktraders.com
Nigel Frith, senior market analyst
"With low-carb diets being the order of the day, it is not that surprising to hear that Britain is buying less traditional bread. Adapting to changing customer needs is essential in the cut-throat food retail business.
"As Tesco looks to reposition towards lower-carb alternatives, the result is a culling of 1,800 jobs. It's proving difficult to gauge investors' reactions, given that the news came on the same day that Tesco revealed it was leaving China.
"However, what is clear is that Tesco is taking a serious look at its business and disposing of what it views as unnecessary parts."