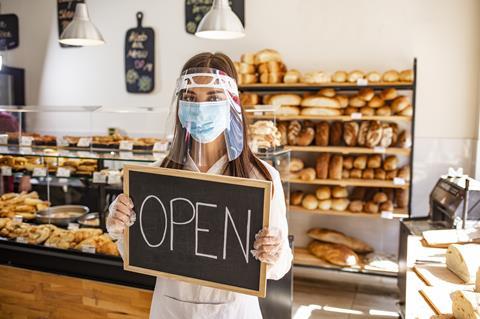 Bakery trade bodies have warned of further challenges for the industry amid a third national lockdown.
New restrictions were unveiled by Prime Minister Boris Johnson on Monday (4 January) in order to address spiralling Covid-19 cases. The stricter measures, which reaffirm the importance to "stay at home", are expected to last until at least mid-February. Similar measures were introduced by Nicola Sturgeon for Scotland as well.
Many bakeries have pledged to stay open to offer essentials to customers, with some expanding their ranges to including home baking ingredients, fruit and vegetables among other goods.
But, it's likely footfall with drop as a result of the 'stay at home' order with bakeries who also operate cafes being further impacted as these have been forced to close.
Scottish Bakers described the new lockdown as a "bitter blow" for its members.
"This lockdown places further strain on businesses already being stretched by the demands of maintaining Covid-safe production and trade. Our real concern is the impact the 'stay at home' order will have on passing trade for those with retail outlets, and of course the devastating impact on those who rely on wholesaling product into hospitality settings," said chief executive Alasdair Smith.
He noted concern for some members who have seen revenue drop to around 25% of what it should be and have not been able to access financial support.
This lockdown places further strain on businesses already being stretched
"We advise all members to look at how they can take advantage of the furlough scheme to protect livelihoods and future capacity and capability, but it is our firm view that this latest national lockdown must come with additional financial support for businesses in the food supply chain, especially those of our members heavily exposed to the closure of hospitality."
The Craft Bakers Association (CBA) also highlighted challenges for its members, but said it is confident they will be able to rise to the challenge.
"The announcement of a third lockdown will undoubtedly present challenges for the craft bakery industry, however, after the resilience members showed last year, we are confident that the sector is well-equipped to meet these," said Karen Dear, CBA director of operations.
Online ordering and home delivery will increase yet again, she added, helping to mitigate the already depleted footfall.
"As an essential shop, bakeries will remain open and we know this was welcomed by the public in the first lockdown, as many shoppers rediscovered their local bakers and sought out (and continue to do so) products with provenance."
Plenty of bread for all
The Federation of Bakers, which represents the UK's largest bread and bakery companies, said it was sure bakers will be able to continue to meet the needs of shoppers. But chief executive Gordon Polson urged shoppers not to stockpile bakery products.
"As with other sectors, we are beginning to see increased levels of absenteeism – which is to be expected at this time but as long as we do not see the level of panic buying, we saw in March and April last year, there is plenty of bread for all," he said.
Alex Waugh, director of trade body UK Flour Millers, added that government support will continue to be needed for those businesses suffering as a result of the pandemic and lockdowns.
"We are concerned about the long-term future of business development on a thriving physical retail environment," he said. "As the benefits of the national vaccination plan are felt, we believe that continued government support will still be required for these businesses in order to have a base from which to build back better in future."