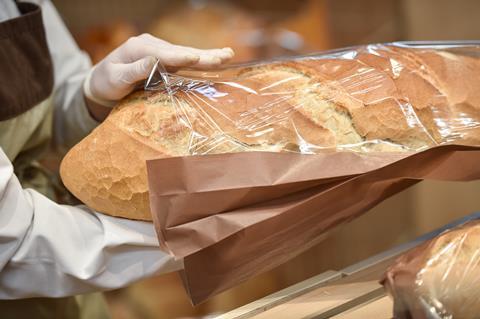 The Craft Bakers Association, Federation of Bakers and Food & Drink Federation have warned of challenges ahead as England is set to enter a second lockdown to slow the spread of Covid-19.
New national restrictions were revealed by Boris Johnson on Saturday (31 October) which will see non-essential retailers close. Food shops and supermarkets, however, can remain open. The new measures will apply nationally for four weeks up to Wednesday 2 December.
The Federation of Bakers, which represents the UK's largest bread and bakery companies including Allied Bakeries, Warburtons and Fine Lady Bakeries, has urged the public not to panic buy.
"We are confident that we will continue to supply bread and bakery products to the retailers as normal and would urge the public not to panic buy, as we are not expecting any disruption to the production and distribution of bread and baked goods," said chief executive Gordon Polson.
"It is though very unfortunate for those members whose foodservice business was beginning to slowly recover, will be hit again."
The Craft Bakers Association (CBA), meanwhile, is confident its members will continue to adapt.
"The bakery industry has shown great resilience so far this year and we are confident that whilst the new restrictions will present challenges, such as a potential reduced footfall for some stores, bakers will continue to find ways to adapt and innovate, all whilst delivering great customer service," said Karen Dear, CBA director of operations.
She added that CBA members can contact them at any time for support and guidance.
Job retention scheme
Due to the new restrictions, the government has extended the Coronavirus Job Retention Scheme until December, meaning furloughed employees can receive 80% of their salary for hours not worked, up to a maximum of £2,500.
Ian Wright CBE, FDF chief executive, said the extension of the furlough scheme is "extremely welcome news" for food and drink businesses, but added that the industry needed further clarity that the supply chain will be sufficiently supported.
"Without further reassurance thousands of jobs will be under threat as businesses consider closing their doors for good. The economic impacts of this decision threaten calamity unless we see further details of a rescue package in the next 72 hours," he said.
The bakery and food to go industry has already seen job losses as a result of Covid-19 and the first lockdown. Pret is to cut more than 3,000 jobs from its UK shops and support centre, while 60 staff at Jenkins Bakery in Wales are to be made redundant due to the "substantial loss in footfall and a consequent drop in sales" as a result of coronavirus.