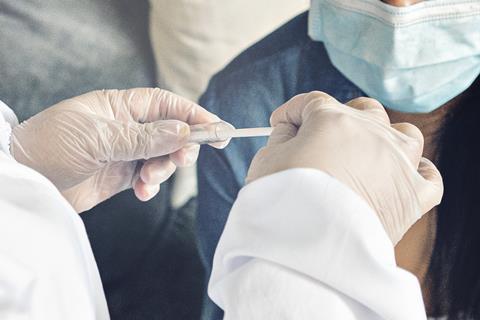 A 'handful' of staff at Addo Food Group's Palethorpes bakery in Shropshire have tested positive for Covid-19.
The bakery, which is situated in Market Drayton, specialises in chilled savoury rolls, savoury hot pies, pasties and slices.
Product manufacturing at the site has not been impacted by the cases, Addo confirmed, as only a small number of the 850-strong workforce there have been affected.
Those who have tested positive are self-isolating for at least 10 days, with contacts isolating for 14 days as per national guidance.
"Unfortunately, we have had a handful of colleagues test positive for Covid-19 at our Palethorpes Bakery. We believe that the virus was contracted outside of our facility and these are isolated incidents," a spokesman for Addo Food Group said.
They added that the health and safety of staff was the company's number one priority, noting that it has strictly followed government guidance on screening, social distancing and handwashing as well. The firm is also taking additional steps to prevent further spread of the virus.
"We continue to self-isolate and refer our employees for testing, including those who may be a potential contact of a positive case. As part of our procedure, individuals must self-isolate until a negative test result has been confirmed – it is only at that point that they can then return into the bakery," the spokesman added.
Addo has been working with Shropshire Council and Public Health England Midlands to manage the situation.
"We are aware that a small number of positive cases of Covid-19 have been confirmed at the Palethorpes Bakery in Market Drayton," said Rachel Robinson, Shropshire's director of public health.
"We are working closely with the business and Public Health England to help limit any further potential spread."
In August, a small number of staff at Addo's Riverside bakery in Nottingham – which produces own-label chilled quiches, flans and savoury tarts as well as gluten-free pork pies and sausage rolls – tested positive for Covid-19.
Addo implemented several additional safety procedures at the start of the pandemic, which it said have stayed in place even as lockdown eased. These included two-metre social distancing across all work and break areas and safety screens at all working areas.
Other bakery manufacturers have also recorded cases of Covid-19 at its facilities. Production at Greggs' Newcastle factory was temporarily halted in September as a result of the virus, as was production at Greencore's Northampton sandwich site in August. Staff at McVitie's owner Pladis and Mr Kipling have also tested positive for the virus in recent months.