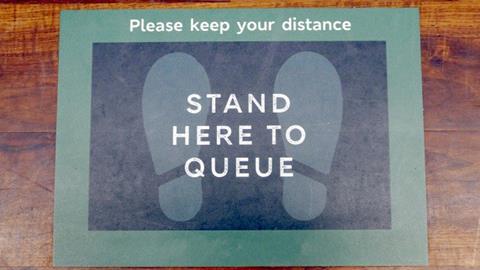 Britain's retail bakery and café market is returning to life, with a growing number of businesses reopening sites.
Stores and bakeries are being adapted to minimise the risk of coronavirus infection, with reduced staff numbers, social distancing measures and safety equipment. Many operators have also simplified their product ranges to reduce staff numbers in production sites.
Listed below are details of the operations and plans of some of the largest chains – see the end of the article for a listing of the UK's 75 leading bakery café businesses.
Costa
Number of stores: 2,787 (Jan 2020)
Has opened 19 drive-through sites and has 14 stores delivering via Uber Eats.
"While most of our stores remain closed, we continue to pay our store team members 100% pay and are incredibly grateful to those who have volunteered to work across these reopening stores," said CEO Jill McDonald.
Subway
Number of stores: 2,577 (Jan 2020)
Began phased reopening of more than 600 Subway stores, with new operational and social distancing safety measures to protect customers, third-party suppliers and staff.
Measures include new fixtures, new signage to support social distancing, enhanced hygiene practices and PPE to protect staff, customers and delivery drivers.
"The weeks and months ahead will continue to be challenging for everyone, and Subway will play its part in supporting the new-normal, whatever that may look and feel like," said Subway country director Colin Hughes.
Greggs
Number of stores: 2,050 (Jan 2020)
Greggs is conducting trial reopening of a small number of stores ahead of a planned wider roll-out. This is being conducted with a view to opening all stores in July, dependent on government advice at that time.
Some trials have been conducted behind closed doors over fears of overcrowding following widespread media coverage of the plans.
"Our operational shop trials have initially taken place behind closed doors in order to test the effectiveness of our new operational safety measures," said the company. "As these trials progress, we are gradually beginning to reopen these shops on an ad-hoc basis to walk-in customers."
Starbucks
Number of stores: 995 (Jan 2020)
Beginning a phased roll-out of drive-through sites from 14 May with a view to be fully reopened by the end of June.
Starbucks said it has tested and refined operational plans and safety procedures, after looking at the success of its global teams – 90% of Starbucks in China are now open and 86% of US stores.
"By staggering our approach, we can sensibly ramp up our supply chain, focusing first on a reduced menu of beverages and then fresh food to simplify operations," Starbucks general manager Alex Rayner told UK staff.
"This will also enable our social distancing measures, which will be further supported by shortened opening hours to reduce the number of partners on shift each day, and will also allow greater flexibility to travel to and from work."
Caffè Nero
Number of stores: 679 (Jan 2020)
Caffè Nero opened seven sites on a trial basis last week, and will be opening a further 33 stores by the end of next week.
"The success of our initial trial has given us confidence we can operate our stores for takeaway while prioritising the safety of our people and customers," said founder and group CEO Gerry Ford.
Pret A Manger
Number of stores: 400 (Jan 2020)
Pret has opened around 100 sites after reopening an initial 10 in London in April that were staffed by volunteers.
The company has introduced safety measures, including Perspex screens at tills, restricting the flow of people into shops and offering face coverings to employees who want them.
BP - Wild Bean Café
Number of stores: 334 (Jan 2020)
Offering a limited hot drink offer in all stores.
"Thank you to all our front-line staff for helping make this happen and to our amazing customers for their patience and understanding in these unprecedented times," said the business.
Stephens
Number of stores: 227 (Jan 2020)
With Scotland under stricter lockdown than the UK, the business has no plans at this stage to reopen stores.
However, Stephens bakery counters at Scotmid's stores are all open.
Coopland & Son (Scarborough)
Number of stores: 173 (Jan 2020)
All but 11 shops will be open by the end of this week. The remaining 11 are being monitored closely and will reopen when possible, said the company.
RT Stuart
Number of stores: 150 (Jan 2020)
Has reopened a number of its shops, and Stuarts bakery counters at Scotmid's stores are all open.
Cake Box Holdings
Number of stores: 132 (Jan 2020)
Cake Box franchisees have reopened 79 stores and the business hoped to have all sites open again by early June.
The franchise business has put in place new processes including operating with smaller teams in-store to allow for social distancing, clear demarcation of required social distancing throughout the premises, staff wearing PPE at all times including face masks and shields, and implementing an enhanced personal and property hygiene regime.
Krispy Kreme
Number of stores: 123 (Jan 2020)
In addition to offering delivery, a small number of stores will offer a pre-order click-and-collect service for takeaway pick-up and the majority of drive-throughs are open.
Café W (Waterstones)
Number of stores: 77 (Jan 2020)
All sites currently closed
Patisserie Valerie
Number of stores: 73 (Jan 2020)
(Awaiting update from company)
Birds Bakery
Number of stores: 65 (Jan 2020)
Birds has opened 39 stores to date (13 May) and has plans to open another eight in the coming weeks. It has been offering a reduced product range, but is now extending this to meet customer demand, with further breads being offered from next week.
Birds has been selling a range of grocery products, including flour – with customers buying more than 900 bags.
Wenzel's the Bakers
Number of stores: 64 (Jan 2020)
Most Wenzel's stores are open.
Greenhalgh's Craft Bakery
Number of stores: 60 (Jan 2020)
Some stores open.
Bayne's the Family Bakers
Number of stores: 58 (Jan 2020)
The Fife-based business has reopened 42 shops and plans to open further sites.
It has implemented safety measures, including: offering a limited range of essential goods, most of which will be packaged at the bakery; fewer staff in shops to enable social distancing; screens at tills; only accepting card payments; allowing a restricted number of customers into the shops by using posters in windows, social distancing stickers on floor, A-frame boards with social distancing measures at the door, and a member of staff to restrict customer numbers into each shop; and reduced opening hours.
"I would like to thank all our staff for their hard work and support over the past few challenging weeks," said John Bayne, joint managing director.