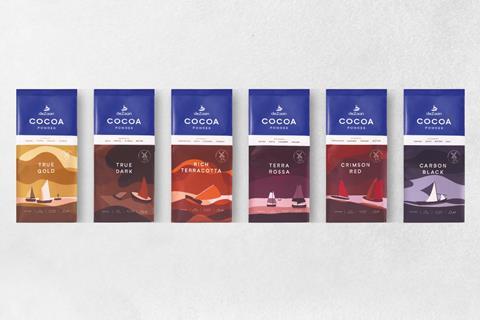 Olam Cocoa has rolled out a new range of six cocoa powders for bakers, pâtissiers and professional chefs.
The DeZaan Cocoa Professional range comprises True Gold, True Dark, Rich Terracotta, Terra Rossa, Crimson Red and Carbon Black. They are available now in 1kg or 5kg formats.
It is designed to help chefs, bakers and pâtissiers take their creations to the next level, Olam said.
"We know that taste is the most important factor for 70% of chefs when choosing a cocoa brand. There is now a specific range that meets the needs of professionals who want greater control over the flavour and colour of their final creations. Cocoa is a core ingredient and it's time to rethink it," said Simon Brayn-Smith, vice president of Olam Cocoa for Professionals.
Bakers can pair the powders with sweet, savoury, citrus, fruit or sour flavours, it added. With a combination of dutched and natural powders, the range is suitable to use in applications including bakery, desserts and patisserie.
Olam Cocoa said it has sourced the range responsibly through Cocoa Compass, its sustainability scheme, which aims to support small farmers, their families and communities, as well as the environment. It has also made a commitment to help farmers achieve a living income, eliminate child labour and protect forests through a net increase in tree carbon stock, by 2030.
Based in the Netherlands, Olam Cocoa supplies cocoa beans and cocoa ingredients worldwide.