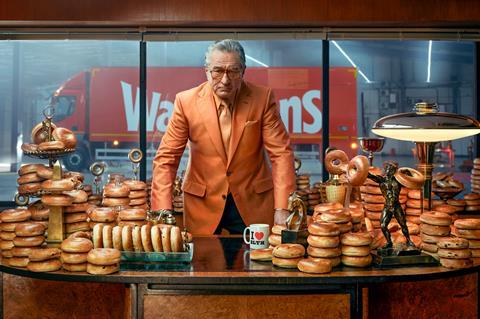 Forget Nespresso, Hollywood superstar and silver fox George Clooney is now using his rugged good looks to flog bread as he becomes the latest celebrity to appear in a TV advert for Warburtons.
Arguably, its chairman Jonathan Warburton who's doing the better job of flogging bread in the ad as he refuses to take Clooney's video call after being distracted by his 3pm snack of hot buttery toast.
Personally, it would take a lot more than hot buttered toast to distract me from Gorgeous George – a toasted crumpet with butter and jam at the very least!
Here, I take a trip down memory lane and revisit some of the Bolton brand's star-studded adverts:
The Muppets
Sing it with me: "It's time to grab the toaster. It's time to take a bite! It's time for Giant Crumpets on the Crumpet Show tonight!"
Like Animal, I am mad for crumpets making this my personal favourite of the recent Warburtons adverts. The over-the-top production, all my beloved childhood characters, the cheesy jokes – it's just so good! The only downside is that the song will remain in your head for days afterwards.
Also, a shout out to Miss Piggy who is trying her best to get a slice of the Warburtons' empire.
Robert de Niro
As someone who hasn't seen Goodfellas since college, the nuances of this ad are lost on me. That said, I can't help cracking up at the optimistic tour bus driver who says: "Alright lads, here for the bakery tour?" in a lovely Bolton accent.
The advert was created to celebrate the launch of Warburtons bagels in 2019 and caused quite the stir amongst its rivals with New York Bakery Co hitting back with a duo of gangster-themed ads.
Peter Kay
Is there anything more Bolton than Peter Kay? No, which is what makes him the perfect person to star in a Warburtons advert. Sure, he's might be a homegrown celeb rather than a Hollywood A-lister, but jokes are cracking.
I'd honestly forgotten how funny this advert was. Maybe it's my childish sense of humour and belief that you can never have too many bakery-themed double entrendres (side note: the word 'buns' will always be funny) but it was great. The garlic bread reference, hearing Jonathan Warburton say "suggestive kneading" and Kay shouting "ay, you're squashing me baps" – perfection.
Sylvester Stallone
Sly swapped guns for buns in this epic advert inspired by Rocky and The Expendables.
It hit all the right marks with Eye of the Tiger playing in the background, Stallone running up some steps (not the iconic steps but close enough) and snappy one-liners like "time to earn my crust".
One nice touch is that the Hollywood heavyweight starred alongside Warburtons' real-life delivery drivers and bakers as it was filmed at the company's central bakery in Bolton.