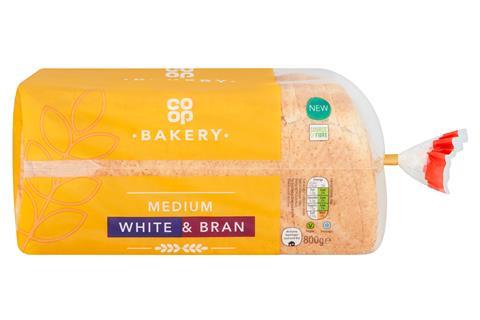 Jacksons and Warburtons have kicked off their own-label bread contract with the Co-op.
Under the deal, Jacksons will bake Co-op's bread which is distributed daily across the UK through the Warburtons logistics network.
Fourteen products are now made by the Hull-based bakery including a new 800g toastie loaf, Co-op's Honest Value range and, a white & bran loaf containing bran and wheatgerm (pictured).
The pair take over from former supplier Allied Bakeries which failed to agree commercial terms with the retailer on a contract renewal last summer.
In its announcement at the time, parent company Associated British Foods described Co-op as "one of its more challenging accounts in terms of cost to serve", with deliveries to 3,750 stores widespread across the UK. A "lengthy notice period" was given by Co-op to aid Allied in the transition.
Owen Elliott, chief operating officer of Jacksons, which was established in 1851, described the new deal as a "brilliant opportunity".
"The William Jackson Food Group, which owns Jacksons, has a long history with Co-op and is closely aligned in terms of quality and values – it's great to be able to build on this relationship even further," he said.
"A huge amount of work has gone into developing recipes for the new Co-op loaves, getting the factory ready for the additional business and setting up a logistics model to work with Warburtons."
Colin Bebbington, Warburtons sales director, said: "This partnership with Co-op will maximise our industry-leading distribution network to deliver freshly baked bakery products to its stores across the country. We are proud to be part of this partnership and are looking forward to working together with Jacksons and the Co-op for the long term."
Sinead Bell, Co-op's director of chilled food and bakery added: "This is an exciting development with all the 'ingredients' to bake in our shared values – Co-op is committed to meeting the need for great quality, fresh, delicious bread and bakery products, conveniently."