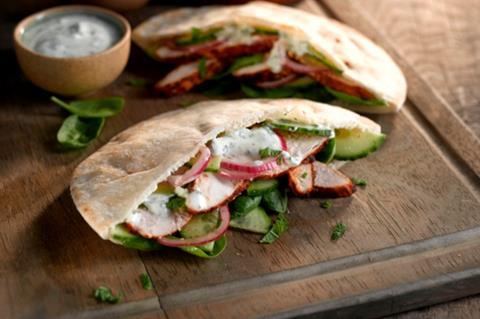 Warburtons has unveiled its latest piece of NPD – a duo of pitta breads.
Available in white and wholemeal variants, the soft pittas are rolling out across several major retailers with an rsp of £1 for a pack of five.
The brand said pitta is the third largest segment in the sandwich alternatives category but has limited branded presence or growth through NPD. It added that pitta breads deliver well against 'health and practicality' needs for consumers, but 'under index on enjoyment'. As such, it believes there is a 'clear opportunity to address this with a quality, tasty product'.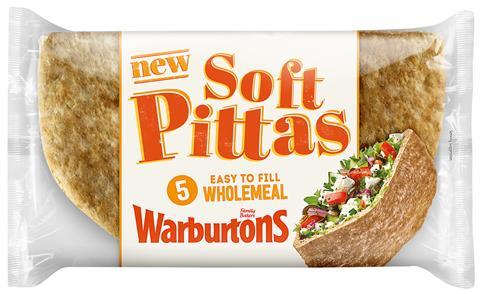 "We researched what consumers felt about current pittas and found that currently, pitta breads are seen as the least tasty of the sandwich alternatives," a spokesperson told British Baker.
"There is a clear opportunity to address this. When you look at consumer feedback on pittas this is proven out with the issues around being viewed as 'dry', 'break/tear easily' and 'difficult to open' and these are the areas we have really tried to address and turn into our key benefits so that we have a unique and strong proposition in pittas."
Made at Warburtons' site in Burnley, the soft pittas are designed to fit a number of mealtime occasions at home or on the go, the brand added.
"We're delighted to introduce the new Easy To Fill range of White and Wholemeal Soft Pittas into our portfolio," said Darren Littler, innovation director at Warburtons.
"The new product is practical for quick and tasty lunches at home or on the go, thanks to a soft texture that opens without falling apart."
The brand continues to invest in NPD and production outside of wrapped bread. Earlier this year, it announced a multi-million-pound investment to build a new facility dedicated to the production of thin bagels.