Keeping your finger on the pulse of what's new means bakers can keep up with consumer demand, develop new products and as a result, shape their business, even in the toughest of climates.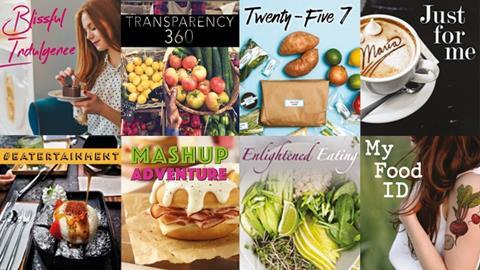 In the swirl of daily tasks faced by the bakery owner, staying abreast of consumer trends is one that can sometimes end up 'on the back boiler', but understanding what makes your customers tick can make a direct impact on elevating your business and driving sales.
Eight Global Trends have been identified by Dawn Foods, which are important for every baker to have on their horizon. Keeping your finger on the pulse of what's new means bakers can keep up with consumer demand, develop new products and as a result, shape their business, even in the toughest of climates, such as the one we are now experiencing.
"2020 will go down in history as one of the most challenging in recent history and inevitably consumer behaviour will change as a result. As we come out of this current challenging situation, we can begin to consider how to take advantage of these trends," explains Jacqui Passmore, marketing manager UK and Ireland at Dawn Foods.
"Trends evolve as consumer tastes change and, no doubt, current market situations will have an impact on the way in which consumers enjoy their sweet bakery goods in the future.
"We are already seeing how the influence of technology is having a big impact on consumers' relationships with food and bakery and this is set to continue along with the other key drivers – indulgence, destination, discovery and ethics shaping consumers' food buying and eating patterns."
Blissful Indulgence
The Trend: To pause their stressful lives and boost their moods, consumers yearn for a fleeting escape to the bliss of a decadent treat. And they expect this luxurious reward tucked into eye-catching packages that remind them they deserve pampering.
Tip: Consumers want to make every bite count, so consider creating luxurious treats bursting with premium ingredients that wow their taste buds.
#Eatertainment
The Trend: Food plays the universal denominator of visual experiences, with people worldwide transforming eating into a more immersive experience that can be dubbed as "eatertainment". From ambience and decor to food and special events, consumers want a dining destination beyond today's 'special'.
Tip: Chefs and bakers can create new culinary sensory encounters with experiential demonstrations in-store, creating innovative flavour pairings and on-demand customisation.
25/7
The Trend: People seek to adapt to the daily hustle, tapping into technology for quicker ordering and food delivery. They shift eating patterns by grazing throughout the day and shave time off food preparation with meal-kit delivery services and new gadgets and concepts.
Tip: Bakeries can simplify their customers' lives — and save them time — by offering innovative bakery goods both in-store and in a food-to-go format.
My Food ID
The Trend: Consumers' identity intertwines with the food and backstory of their favourite bakery. When they connect with a bakery, they may make an outward expression of personal identity by sharing the bakery's social media posts or carrying a paper bag with its logo.
Tip: Bakeries can tap into what makes their business unique and provide products and services that offer memorable and shareable consumer experiences.
Just for Me
The Trend: Consumers are fatigued with mass-produced products, where they feel nameless and unimportant. But businesses can use technology to forge authentic relationships by treating interactions as the channel for building close, personal connections. As artificial intelligence seeps into everyday lives, consumers expect companies to "know them".
Tip: Nurture existing relationships and build new ones that demand loyalty by getting smart with technology and creating an experience that shapes personal relationships with customers.
Transparency 360
The Trend: To feel better about products they purchase, consumers want to buy local and choose brands that share their beliefs and values. Consumers seek transparency from the companies they support and their chosen brands, expecting honesty and integrity.
Tip: Bakeries may benefit from adopting a holistic approach to their business, aligning their values with sustainable practices and business stewardship, so consumers feel good about buying from them.
Enlightened Eating
The Trend: Today's hyper-informed consumers demand food with benefits — healthier options fuelling their bodies and pleasing their palates. They opt for products with added nutrients, such as fruits, veggies and ancient grains — and without allergens, animal products and artificial ingredients.
Tip: Replace undesirable ingredients with healthier alternatives and incorporate good-for-you options to transform traditional products into offerings that also power the body.
Mash-up Adventure
The Trend: To bust out of daily routines, people yearn for new experiences, and food offers an easy, low-risk path. Inspired by global influences, bakeries can push boundaries with sensory experiences mingling new flavours and aromas for surprising twists.
Tip: Quench consumers' thirst for out-of-the-box experiences with a fusion of food textures, forms and flavours, offering a fresh take on the traditional.
"In 2020, Dawn Foods reflects on 100 years of providing ingredients, innovation and partnership to bakers around the world. For us, it's not just a time to take stock of this milestone in our Dawn story, it's about recognising the role bakers play in their communities. One of the secrets to keeping customers coming back for more is understanding how the trends impact the industry and provide opportunities to introduce items customers will seek out," explains Passmore.
"Dawn's Eight Global Trends have been devised to assist bakers with developing new solutions to meet the needs of today's fast-moving consumer. Technology has changed the way in which consumers interact with food as everything is much faster. Consumers seek even the briefest of moments to relax or indulge, which is good news for manufacturers of sweet bakery products. Our trends show that despite the need for 'me time' consumers are also concerned about healthier ingredients and the bigger picture regarding ingredients provenance, for example."
Click here to find out more about our eight Global Trends.
See Dawn Foods' video on its eight Global Trends below: