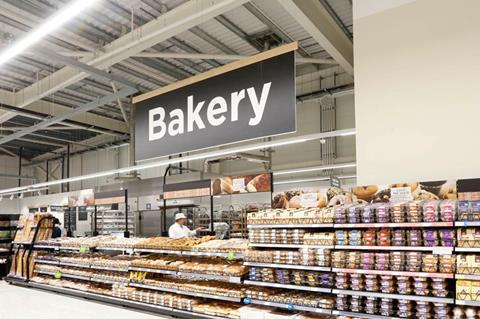 Asda has revealed plans to axe scratch baking in its in-store bakeries in a move which could put 1,200 jobs at risk.
Instead, it is proposing to introduce an ambient bakery model, using a centralised bakery to deliver a wide range of pre-baked goods to stores each day.
As a result, the retailer is entering into formal consultation with 1,200 bakery staff across 341 stores who are potentially impacted by the changes. However, it said if these proposals come to fruition it will look to move as many as possible to alternative roles with redundancy 'the last option'. It added that no bakeries will be closed as part of the move.
The proposal, Asda said, follows a 'notable shift' in customer buying behaviours in recent years with demand for speciality breads, wraps, bagels and pancakes outstripping traditional loaves.
The switch to a new model would allow Asda to broaden the range of bakery products it offered, while baking fresh products several times a day compared to just once a day at present.
Two years ago, Tesco made similar moves as part of a major overhaul of its fresh food offering. Its in-store bakery shake-up put more than 1,800 jobs at risk and saw scratch baking replaced or reduced in many stores with an increased focus on bake-off products.
"The current in-store bakery model has restricted our ability to respond to changing customer demands and offer them the speciality products and freshly baked goods they want to buy throughout the day," said Asda chief marketing officer Derek Lawlor.
"The changes we are proposing will deliver a much better and more consistent bakery offering for customers across all our stores. We know these proposed changes will be unsettling for colleagues and our priority is to support them during this process."