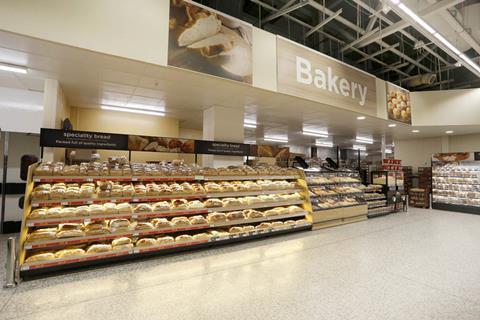 Asda unveiled plans last week to scrap in-store scratch baking and move to an ambient baking model with pre-baked goods delivered to stores from a centralised bakery each day.
The move, which the retailer said follows a 'notable shift' in customer buying behaviours, could put 1,200 jobs at risk across 341 stores. However, Asda said redundancy was 'the last option' and confirmed no bakeries would be closed as part of the proposed plans.
Here's how the industry has reacted:
Roger Jenkins, GMB national officer
"Asda's plans to scrap baking their products from scratch on site and replace them with part-baked products from mass producers is not good for the consumer. Over 1,000 skilled bakers are now at risk of losing their jobs. GMB calls on Asda to retain these valuable skilled employees and continue to offer the customer truly fresh produce baked by professional bakers."
Chris Young, Real Bread Campaign coordinator
"This is such disappointing news. The company has confirmed a rising demand for a greater diversity of real bread but rather than using this as an opportunity to increase the number and skill levels of jobs for people in the local communities their stores serve, they seem poised to axe perhaps more than a thousand. I hope the company will also be ditching the word 'bakery' and any 'freshly baked' types claims from its stores accordingly."
Brian Clarke, director, European Food Consultants
"The analysis will show there are significant cost savings in direct production and labour costs, energy saving and benefits in the utilisation of floor space for sales of higher value consumer goods. Sadly, the effect on the workforce will be felt.
"Do I think this will have an effect on product quality? No. I believe the use of a central supply bakery will improve quality and consistency of product. The statement by Asda and data from other sources will show the shift from standard breads to sourdough and artisan varieties is well underway. A point to note on manufacture in store – it would be difficult to control sourdough production in this area, and also take up considerably more floor area.
"As demonstrated by Lidl, Tesco and Sainsbury's retailers have to change to meet customer tastes and the switch is well underway. M&S has been very successful by taking the bake-off concept from the start and this is well demonstrated in-store and accepted by consumers.
"Do I think Morrisons will adopt the same approach? They appear to be the only retailer not taking the step so far. This could because the Market Street approach they adopt is entrenched in their DNA. But time will tell.
"Some will say removing the scratch concept from the bakery will reduce the differential between the retailers. I question this. A company I was previously director of was the major suppliers of bake off to all the retailers mentioned. Product concepts are tailored to the individual retailer and no two recipes tend to be the same. Shape, recipe and product concepts are taken into account at time of development to meet the individual retailers' needs. The retailers are able to differentiate products at time of development/product acceptance and final sign off."
John Want, sales, marketing and R&D director, Rich's
"We appreciate the need for retailers to continually review their in-store bakery (ISB) operations and respond to shopper demands. It is clear that consumers are keen to have fresh bread available in ISBs and are more relaxed about the 'bought in' nature of other products such as sweet treats.
"We look to support all our customers as they consider the future of their retail offer. Our extensive thaw & serve and retail-ready formats have been developed to help retailers simplify operations, whilst delighting their shoppers with a perfect range of high quality sweet baked goods."