The UK's major supermarkets utilise a variety of methods for in-store bakery operations, with scratch baking, bake-off and thaw-and-serve options in use.
This was recently thrust into the spotlight again after Asda announced plans to shake-up its model.
Here, British Baker explores how other major retailers operate their in-store bakeries (ISBs):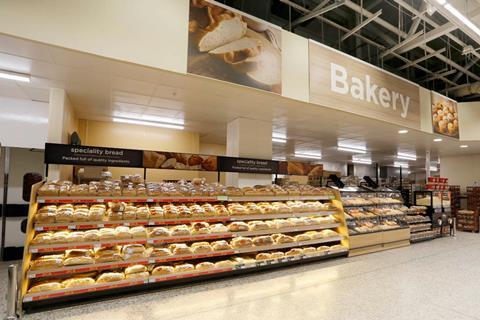 Asda
Asda operates a level of scratch baking across 341 of its stores, however this is soon to change as part of its recently announced shake-up.
Instead, it proposes a move to an ambient model which would see a centralised bakery deliver pre-baked goods to stores daily. It said no ISBs would be closed as part of the move and consultations are underway with 1,200 affected bakery staff but Asda insists redundancy is 'the last option'
The supermarket was shortlisted in the Supermarket Bakery Business of the Year category at the 2019 and 2020 Baking Industry Awards and took home the title in 2018. In the year leading up to its win, the retailer looked to take out unnecessary complication in its bakery operations by switching some ranges from scratch to bake-off while introducing scratch for others.
More recently, Asda looked to improve availability across the trading day as well as the shelf life of its baked goods. This, among other measures, meant changing the working pattern for its bakers.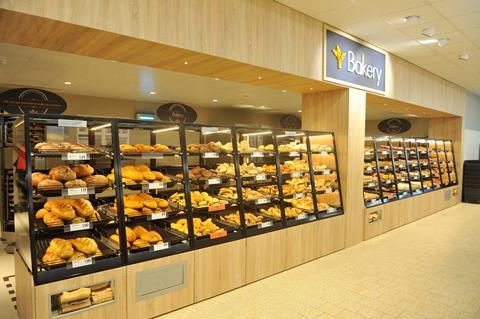 Lidl
Lidl launched its in-store bakery service in 2011. It operates on a bake-off basis, with goods coming in unbaked or part-baked and then finished off in specialist ovens in store. Some of the sweet treats on offer are thaw-and-serve.
Freshness and choice are Lidl's top priorities with its in-store teams baking throughout the day.
Items available include tiger loaves, white sourdough boules, low GI multiseed cobs, as well as pizza slices and cheese twists. On the sweet side, Lidl offers Belgian buns, doughnuts, muffins and pastries among other things. Its pastel de natas have been a standout hit in recent years.
In February this year, Irwin's Bakery secured an expanded contract with Lidl Northern Ireland to supply a range of bread, rolls and sweet treats. The new full-year deal was said to be worth £2.7m and saw the bakery offer an expanded product range to all 202 Lidl stores in Ireland.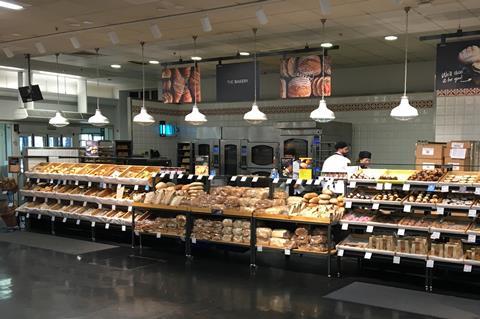 Marks & Spencer
M&S operates its in-store bakery on a bake-off basis with goods delivered part-baked from suppliers. However, it has increased the levels of in-store finishing by bakery colleagues in recent years.
M&S bakes 'little and often' and operates three bake cycles throughout the day to maximise availability and minimise waste.
Its aim for ISBs is to offer a speciality bread range which rivals artisan bakeries so its sourdough, which was developed by the retailer's master baker and supplier, is produced via a bespoke 30-hour process. Other recent innovations include the yum yum and doughnut hybrid, the Yumnut.
When it comes to training, M&S has an academy network of 34 stores to drive improvements in quality, labelling and technical compliance, including allergen control. Learning and development tools have been updated to support the bakers operating in-store, with top tips and videos on a range of subjects.
The retailer has won the Supermarket Bakery Business of the Year at the Baking Industry Awards for the past two years in a row.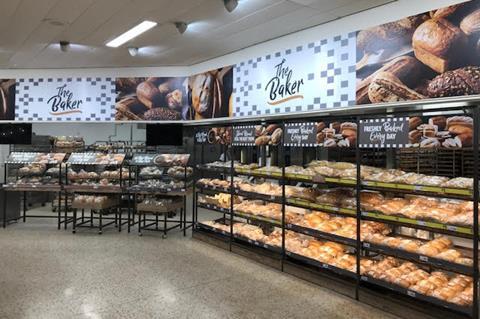 Morrisons
Morrisons operates a scratch baking operation in around 450 of its stores with scratch-made goods sold alongside bake-off ones. Bread and rolls are among the items made from scratch every day.
It introduced wave baking a few years ago and in January 2020 it rolled out a new version of its production plan to ensure the bestselling products, like tiger bloomers, are available across the day.
Nearly two thirds of its bakery products are made in-store and it has sought to increase the number of its in-store bakers in recent years. Many of these are brought on as apprentices and, as of 2020, nearly 1,700 bakers had been trained to the national standard NVQ level 2 over the 22 years. The apprentices are taught a variety of skills including dough production and hand moulding.
Doughnuts are a key product for Morrisons ISBs with 1.6m produced every week. They are mixed, proved, fried, sugared, and filled on-site.
Away from ISB, Morrisons produces nearly 50 types of products – including hot cross buns, seeded loaves, crumpets, pancakes and pittas – at the Rathbones bakery in Wakefield.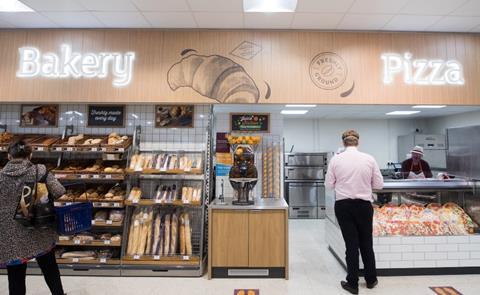 Sainsbury's
According to Sainsbury's most of its stores work on a scratch bakery basis.
However, following recent developments there is a degree of uncertainty regarding the supermarket's plans for bakery in the future.
In January 2017 the supermarket opened a new £1.4m bakery college facility in Bromley-by-Bow, east London. This was twice the size of the college's former site in Wellingborough, Northamptonshire and hailed as 'the only one of its type in the UK retail sector', boasting a capacity to train up to 600 staff annually in practical baking and managerial skills.
With courses designed to 'attract people with the ambition to make the grade as a top-class baker, Sainsbury's group apprenticeship qualifications manager Ruth Jennings said the programme was "seeing fantastic results".
In March 2021, however, Sainsbury's announced the facility would be closing after just four years, with the intention to continue the college at an undisclosed location near the Bromley-by-Bow site.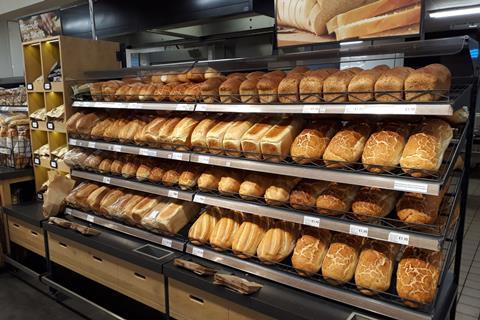 Tesco
Tesco uses a mix of scratch baking, part-baking and full bake-off across its stores.
The current system is the result of a shake-up announced in February 2020 that involved the axing of scratch baking in 58 stores and its reduction in more than 200 other sites.
Since May last year Tesco has continued to offer scratch baking in 257 stores, while at a further 201 sites only the most popular products are scratch-baked with the others part-baked.
The 58 stores where scratch baking has been axed have been converted to full bake-off operations where all products are delivered pre-prepared, then baked and finished in store.
Tesco said the move was in response to a shift in consumer tastes and preferences, with less demand for traditional loaves and customers opting for alternatives such as wraps, bagels and flatbreads.
When the changes were announced, the supermarket also said its focus would be on "investing and continuing to roll out new, up-to-date fixtures as well as growing our regional bakery ranges in partnership with small local suppliers".