With 2020 coming to an end, British Baker looks back on some more stories making the headlines in the most extraordinary year in living memory.
Face coverings in shops became mandatory in July, while August and September saw factories such as Greencore hit by Covid-19 and a plan to minimise job losses at Greggs.
Here's how the next three months panned out for the baking industry: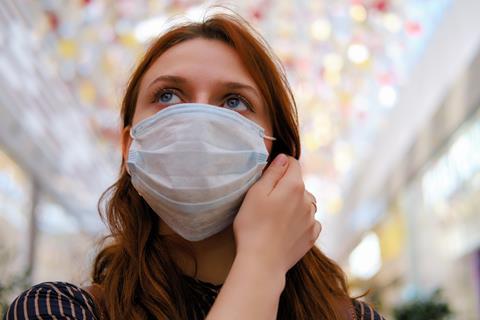 July
The Food & Drink Federation (FDF) claimed that the government ban on advertising and promoting 'unhealthy' food is unlikely to combat obesity. A range of sweeping measures stating the 'urgency' of tackling the obesity time bomb were brought to the fore by evidence of a link to an increased risk from Covid-19. The FDF described the plans as a "punishing blow" for food and drink manufacturers and their staff.
Face coverings became mandatory in shops, causing some to raise concerns about responsibility being put on frontline staff to ensure customers wear them. The Craft Bakers Association and Greenhalgh's Craft Bakery worried about putting employees in an uncomfortable or compromising position. Meanwhile, Birds Bakery and Lovingly Artisan were hopeful that customers would mostly adhere to the new rules.
Pret A Manger confirmed it would pass on savings from the temporary VAT reduction to customers. The Chancellor, Rishi Sunak, announced that VAT on eat-in or hot takeaway food from restaurants, cafes and pubs would be temporarily cut from 20% to 5% as part of government plans to revive the hospitality industry. Pret's customers received price reductions on hot drinks, hot food and eat-in items.
Costa Coffee trialled eat-in at 44 of its sites as it aimed to reopen half its dining areas by the end of the month. The firm planned to offer an eat-in option at 1,000 of its sites. The trial was designed in line with government guidelines in order to test the enhanced safety and operating measures they implemented. The dine-in service included limited seating on a first-come, first-serve basis, tables placed 2m apart and an array of hand-sanitising stations.
The sharp drop in plantings left Britain facing the threat of a 'tiny' crop of wheat suitable for bread. Data from the Agricultural & Horticulture Development Board (AHDB) revealed that the wheat planting area in Great Britain was down 25% year on year, with every region recording a decline. A dry spring compounded the situation and raised fears that crops may produce less grain than usual.
Travel sites operator SSP was set to make 5,000 redundancies due to the coronavirus outbreak. With very few people passing through airports and railway stations, almost all the company's sites, which include Upper Crust and Starbucks units, were shut down. As a result, the business saw sales crash 95% year on year in recent months. The business, which planned to start a major restructure, predicted it would only have reopened 20% of its UK sites by the autumn.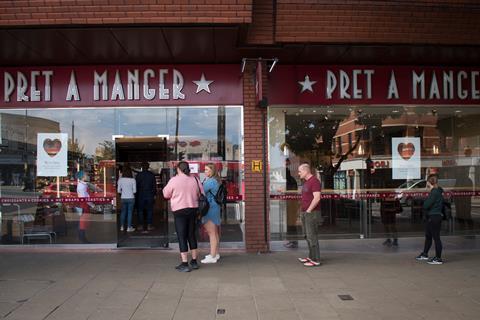 August
Pret A Manger saw 2,800 jobs lost from its UK shops, as well as a further 90 roles cut in its support centre. This followed almost two months of consultations with team members as part of a restructure of the business. The reduction in roles reflected shorter opening hours, lower transaction levels and losses faced by the business in 2020, it said.
Mono Equipment received £108,000 from the Welsh Government as part of the Economic Resilience Fund (ERF). The money from the ERF, which is part of the government's £1.7bn support package for businesses, aimed to help the bakery equipment manufacturer sustain jobs and protect against the impact of Covid-19.
A host of factories were hit by the coronavirus, with a number of staff testing positive. This included Greencore's factory in Northampton, the Pladis biscuit factory in Leicestershire, and Addo's Nottingham Bakery.
Finsbury Food Group invested £1m in a new production plant in the Manchester site of its Kara foodservice division. The investment included a new freezer, feeding system, product conveyors, check weigher, metal detector and hand-packaging station. Improvements were also made to the building, including replacing the floor area and installing energy-efficient LED lighting.
Warburtons partnered with independent business accelerator Mission Ventures to back businesses producing innovative bakery products. The 50:50 joint venture, called Batch Ventures, searched for applications for support from businesses that incorporate baking in their production process, from traditional baked goods, such as breads, crackers and biscuits to cookie dough, baking kits and baked snacks. Since launching in July, the fund has received more than 80 expressions of interest from UK companies.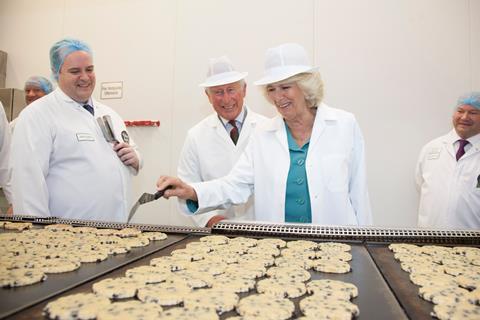 September
Job losses were on the cards at Greggs as sales remained below pre-coronavirus levels and would do "for the foreseeable future". In a trading update, the business said it was proposing a series of changes, which were subject to consultation with union and employee representatives. However, Greggs added that it aimed to "minimise the risk of job losses by negotiating reduced hours" in shops.
Birds Bakery raised £10,000 for The Children's Trust as part of its own Doughnut Week celebrations. After National Doughnut Week was cancelled due to Covid-19 in May, the bakery decided to hold its own celebratory week to support the children's brain injury charity. Birds Bakery sold 45,758 doughnuts and donated 20p from every sale throughout 12-19 September. It relaunched two specials for one week only, including the lemon & lime doughnut and strawberry doughnut.
More than 50 bakeries signed up to the Real Bread Campaign's Sourdough Loaf Mark scheme. It saw bakeries commit to using the Sourdough Loaf Mark, which is described as a visual aid for shoppers looking for genuine sourdough. It aimed to help bakers and retailers give their customers at-a-glance assurance as to which loaves, rolls, pizzas and more fit with the campaign's definition of real bread.
The Prince of Wales and The Duchess of Cornwall showcased bakeries in a virtual food tour of the UK. The tour, which was posted on their social media channels, saw Charles and Camilla look back on some of their "most appetising visits". The tour began with Blair Atholl Watermill in Scotland, followed by Ginsters of Cornwall in England and Ditty's Home Bakery in Northern Ireland, before concluding at The Village Bakery in Wales.
Cake Box promised to pay back furlough money to the government following strong trading. In its trading update for the first five months of the financial year to 30 August, the retailer said like-for-like sales growth was around 14.1% in its franchise stores. It planned to repay the monies it received under the Job Retention Scheme, amounting to £156,000, and make no further claims under the scheme.
Bakery in review 2020: January to March
1

2

3

4

Currently reading

Bakery in review 2020: July to September