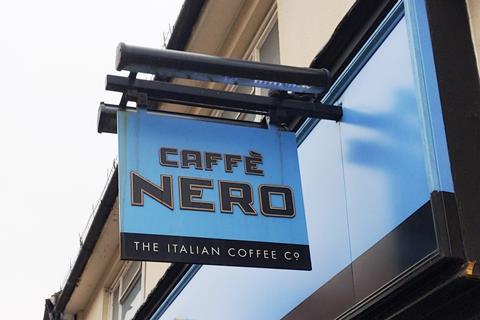 Caffè Nero is kicking off its post-Covid new store openings programme in the UK with a new flagship store at Stansted Airport and another at Belfast Airport.
A further six openings are scheduled in the coming months and the independent coffee house group is 'actively considering' more new sites.
The Stanstead Airport store, which Caffè Nero said was won via a tender process and replaces a Starbucks, is due to open in June in the International Departure Lounge. The business has invested more than £750k in the 1,800 sq ft site which will have a 'premium bespoke design'.
The Belfast City Airport site is also due to open in June 2022 and will be the largest coffee outlet in the airport, replacing a Costa. Located in the main concourse for arrivals landside at the airport, the outlet is 2,100 sq ft and represents Caffè Nero's first store in an airport in Northern Ireland.
Both airport stores are part of a post-Covid renewed store openings programme by Caffè Nero as it restarts its growth engines. A further six stores will be opened across the UK by early summer. These openings will be located in urban centres and market town locations, with additional new sites being scoped and screened for further openings later in the year.
"Both airports are predicting passenger numbers will exceed pre-pandemic numbers in the coming years, so these are important sites for us to win," said founder and group CEO Gerry Ford.
"As the UK emerges from pandemic restrictions, we are looking to return to growth by resuming our store openings programme. We have several new stores in the pipeline scheduled to open over the coming weeks and I'm excited by all of them."
He added that customers are "talking with their feet" and, as a result, the business has seen visitor numbers increase week by week.