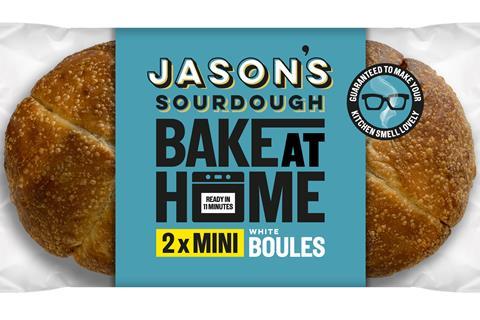 Geary's Bakeries brand Jason's Sourdough is expanding into the bake-at-home category with two new products.
The business said it had found a gap in the market for a premium, authentic sourdough loaf in a shape and size not currently available in the part-baked category.
It has developed a Bake At Home Large White Boule (rsp £2.50/400g) and Bake At Home Mini White Boules 2-pack (rsp: £2.50/250g) that roll out to Waitrose and Ocado on 13 September. With a bake time of eight to 11 minutes, each contain no yeast and "only the cleanest of ingredients".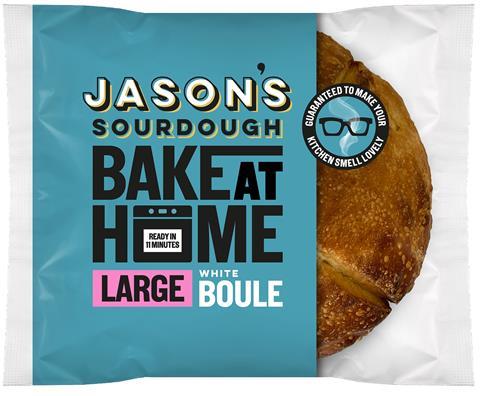 They are sold in modified atmosphere packaging flow-wrapped film that helps to give them a shelf life of up to six weeks.
Citing IRI data for the 52 weeks ending 1 April 2023, Geary's said sourdough now accounts for almost £1 of every £2 spent on in-store bakery speciality loaves.
"The sector has seen limited innovation and creativity in recent years and we're aiming to change that," said Geary's master baker Jason Geary. "We're continuing our sourdough revolution, delivering both innovation and convenience straight to your kitchen."
"Whether you're popping a loaf in the oven to tear and share with your dinner guests, or pimping up your midweek lunch – Bake At Home gives you authentic, warm sourdough in eight minutes."
While interest in sourdough has been growing for years, the pandemic brought an explosion in demand, resulting in an increased focus on authentic sourdough products in supermarket bread aisles.
Recent activity has included Waitrose extending its partnership with Gail's to launch branded fixtures in 64 stores following a trial in three sites at the end of last year. Waitrose is also doubling the range of Gail's sourdough loaves it stocks.
Meanwhile, scientists have just announced they have identified the chemical compounds that give sourdough bread the flavour and aroma that has made it such a hit with consumers. Researchers say they hope it will help bakers achieve a consistent quality in their sourdoughs.