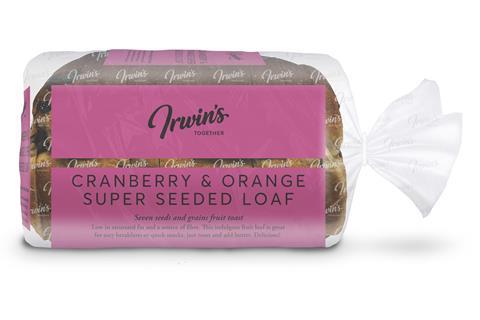 Northern Irish plant bakery Irwin's has secured a listing at Waitrose for its new Cranberry & Orange Super Seeded Loaf.
The 400g fruited bread (rsp £2.10), which is part of the family-run firm's Together range, is rolling out in 300 Waitrose stores and online this month.
It strengthens Irwin's existing relationship with the retailer, which currently lists six Together lines, including two other fruited breads – a Luxury Fruit Loaf and Cinnamon & Raisin Toasty Loaf – as well as potato slims, soda breads, and muffins.
Launched in 2021 following a £500,000-plus investment in R&D, the Together range of sweet and savoury bakery treats is said to be inspired by recipes from around the world. Irwin's quickly landed a £3.5m annual supply deal with Waitrose and Morrisons.
The bakery has since increased its share of the speciality bread market, with +5% growth in the fruited category according to IRI UK data for the 52 weeks ending 6 August 2023.
"This latest business win demonstrates our continued success in creating demand for speciality breads among GB consumers," said Chloe Ormiston, category & shopper insights manager at Irwin's Bakery.
"In a challenging market with changing shopping behaviours, Irwin's is passionate about giving added product benefits to consumers. Increasingly we've seen a rebalancing of what consumers deem as important, with value, health, practicality, and enjoyment all in play," she added.
A Kantar 2023 market report found a decline in traditional breakfast choices, with a switch to morning goods options driven by health and convenient indulgence.
"This research has driven our desire to bring excitement to the fruited and morning goods categories, delivering great-tasting products that consumers are asking for," continued Ormiston. "The development of this new style of fruit loaf, with added seeds and grains, opens up the business to a new market, giving us the opportunity to engage with a younger audience who wouldn't normally consider a traditional fruit loaf."
Business ambitions
With over 100 years of baking heritage in the town of Portadown, County Armagh, third generation Brian Irwin is still currently chairman and director of the business, with the fourth generation represented by Ross, Stewart and Jill also on the books.
Irwin's CEO Michael Murphy outlined the company's five-year ambitions during an interview with British Baker in 2021, including plans to grow its numbers outside of Northern Ireland – "We're a national baker not a Northern Ireland baker," he said.
The business' latest financial results for the full year up to 27 March 2022 reported a turnover of £30.4m, which was a slight increase from the £30m revenue recorded in the previous year.
However, it reported a of £2.1m in the 2022 financial year. This was said to be "due to the inability to pass on significant cost increases in full and in a timely manner".
The company noted that post year end, it had successfully secured price increases and achieved operational savings, with refinancing and restructuring placing it "on a solid footing" towards a return to profitability for the 2022/23 financial year.