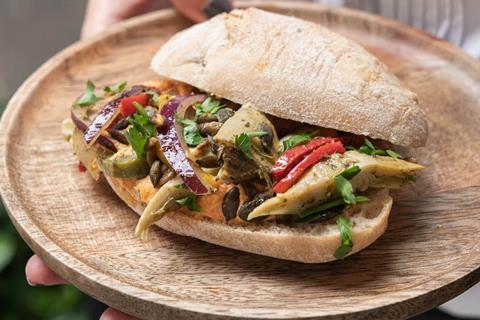 Bakery chain Le Pain Quotidien is tackling food waste by signing up to the Sustainable Restaurant Association's Food Made Good programme.
Under the guidance of the not-for-profit membership organisation, the new Le Pain Quotidien menu features a 'circular design concept' to limit unnecessary kitchen waste while placing an increased emphasis on vegan options.
Under the new system, leftover bread is made into the next day's croutons and also turned into dishes such as Brioche French Toast – butter brioche soaked in egg and cinnamon, with fruit, honey and yoghurt (£9.50).
Le Pain Quotidien is also working with surplus food app Too Good To Go to recycle 'almost all' waste, while also offering used coffee grounds to customers on a complimentary basis for garden and cleaning use.
Recent research by Too Good To Go revealed that less than half of UK bakeries have a documented plan in place to reduce food waste and cited a short shelf life and health & safety guidelines as some of the top reasons for its occurrence.
LPQ's other sustainability initiatives include sending pulp from all juices to be turned into renewable energy, switching single-use plastic items to biodegradable alternatives, and using menus from recycled paper.
"As a business and bakery, Le Pain Quotidien is always looking for ways to protect the environment, reduce its footprint and give back to the community and its customers," said Jana Somon, head of marketing UK. "Together with the SRA, Le Pain Quotidien will be looking at ways they can become more sustainable, and help its customers be sustainable too."
Vegan bakery items on the new Le Pain Quotidien menu include the VLT bun – marinated organic tempeh, avocado, garlic aioli, parmesan, plum tomato and baby gem in sweet potato brioche (£8) – as well as Spinach & Pine Nut Swirl (£9.50) and Roasted Veg & Mozzarella focaccia sandwich (£13.50).