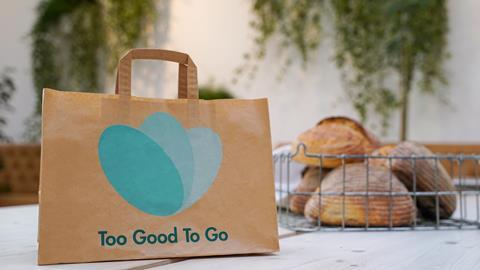 Less than half of UK bakeries have a documented plan in place to reduce food waste, according to new research by app Too Good To Go.
The report, called Rising to the challenge – in-depth insight into food waste in the UK bakery sector, identifies employee views on food waste, which items are most frequently destined for the bin and what bakeries are doing to tackle the issue. A total of 255 bakery employees were polled as part of the research as well as 2,024 consumers.
"Our research found that employees care deeply about wasting food. This is not surprising considering the hours of time and energy that go into creating perfect pastries, crusty loaves and delicious cupcakes," said Paschalis Loucaides, UK managing director, Too Good To Go.
"If practices continue as they are, the team and resource costs of throwing away food will take their toll on bakery businesses. But by introducing training programmes, adopting new tools, implementing technology solutions and building them into operations guidelines, the bakery sector can rise to the challenge and lead the way in reducing our nation's food waste footprint."
Here are some key messages from the report:
Why does food waste occur?
Strict health and safety guidelines were identified as the top reason for food waste in bakeries with 35% of bakery employees selecting it as one of the main causes.
A short shelf life was identified by a third (33%) followed by the weather with 31% stating that it directly impacts demand and therefore surplus.
"With fresh food, especially short shelf life fresh food like what we produce in bakeries, it is really hard to work out how much you need to produce for the next day because the weather might be terrible… and all of a sudden shopper habits end up being disrupted," said Rob Hagen, MD of East Bristol Bakery in the report.
Ready-made sandwiches top the list of wasted items
UK bakeries are most likely to waste ready-made sandwiches, the report states.
They were identified by 58% of the bakery employees surveyed as being among the most wasted products in their bakeries. Cakes came in second being among the most wasted in 42% of bakeries, followed by fresh bread in 37% and pastries in 36%.
"Food waste can vary but baguettes and sandwiches are the main thing that often goes to waste because we make them fresh daily and it's hard to get the right amount," said Lee Griffiths, head of retail for Parsons Bakery, in the report.
Education and documentation is needed
Almost two thirds (60%) of bakeries think they should minimise food waste to help the environment.
However, less than half (42%) of bakeries in the UK have operations guidelines or documentation that include best practice to minimise food waste. What's more, 46% of those surveyed said they provide training on sustainability awareness or reducing food waste for its staff.
The good news, according to Too Good To Go, is that food waste is a visible issue with nine out of 10 of those polled claiming to be aware of how much food their business wastes each working day.
"There is a knowledge gap in understanding," the report states. "Managers are more aware of the environmental ramifications of food waste than full-time employees. This could be due to the fact that reducing food waste doesn't appear to be on the menu for many bakeries."
Bakery waste impacts employee morale
Food waste can impact bakery employee morale, the report noted.
Over a third (38%) of employees believe that their team morale is impacted by how much food the business wastes. What's more, almost half (48%) feel disappointed when food is wasted while 37% feel guilty that carefully crafted treats may end up in the bin.
One small plus is that nearly half (44%) of businesses allow staff to take home unsold food.