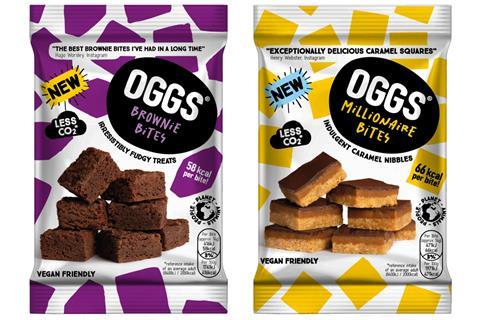 Oggs has seen two of its cake products listed in Tesco following a humorous Instagram skit.
The vegan bakery brand's Brownie Bites and Millionaire Bites went on sale at the supermarket this week (rsp: £2.25/126g).
The rollout followed a stunt on the brand's @loveoggs Instagram page, which posted a photograph of celebrities Beyonce and Jay-Z with their faces hidden behind Oggs and Tesco logos, together with the strapline, "This could be us."
Underneath the post, the brand wrote: "There's a love story greater than Romeo and Juliet waiting to happen. We know we are meant to be together, but they (Tesco) are playing hard to get and we need your help. If you want to see our cakes in Tesco's stores across the UK, tag them in the comments below."
Oggs founder Hannah Carter described the Tesco listing as "an important milestone".
"We're making it even easier for people to enjoy plant-based food choices that not only taste incredible but are now more accessible too."
Each pack of Ogg Bites contains nine bite-sized cakes and the brownie pieces are made with the brand's own aquafaba egg alternative.
Carter added: "As a brand, we have a clear mission to remove unnecessary animal products from the food chain, and if we all make a small contribution through buying plant-based products where we can, it will make an enormous difference."