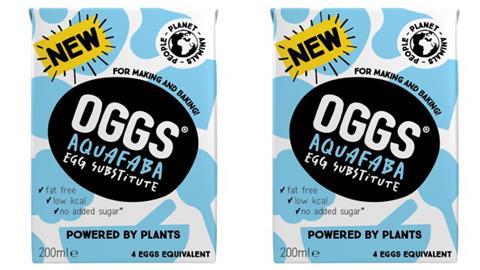 Vegan foods supplier Oggs is preparing to roll out a plant-based egg alternative for the foodservice industry and food manufacturers.
The aquafaba product is made from chickpeas and can be used as an alternative to fresh eggs, said the firm.
Launching initially into retail this summer, a 500ml format aimed at the foodservice industry is due to roll out in the autumn, and a 5-litre pack for manufacturing to follow in early 2021.
The 200ml retail format, with a £1.99 rsp, is launching in Waitrose in June, followed by Sainsbury's and Asda later this year.
Aquafaba is set to be the new store cupboard staple, keeping bakers baking, chefs making and cakes rising, according to Oggs.
The ambient, long-life egg alternative is available in Forest Stewardship Council sustainably sourced and fully recyclable packaging, which is certified by The Vegan Society.
"For us, this is the future of food, it's more sustainable and ethical than the traditional egg. Aquafaba has the potential to replace much of the hidden animal protein in our food chain, from egg white in gluten-free bread to the barn eggs that sadly still reside in many prepared foods on our shelves," said Oggs founder Hannah Carter.
Oggs has been working towards its zero waste policy by partnering with other food manufacturers to provide them with cooked chickpeas at a highly reduced price, it added.
"After working with two top universities in both the UK and Portugal, the result is a consistently performing, clean, plant-based food ingredient that is the ideal alternative for eggs in baking and cooking. Aquafaba will enable both professional and home chefs and bakers to explore a huge range of recipes that simply replace an egg with an Ogg."
For more on egg alternatives see the British Baker feature here.