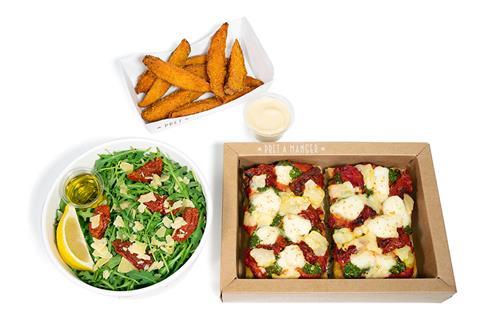 Pret A Manager has launched a selection of freshly baked pizza and garlic bread as part of its Dinners By Pret range.
The 13-strong selection, which is available from 13 shops and designed to be eaten at home, includes individually boxed pizzas made from a focaccia base. They are:
Chipotle Chicken & Feta – made with red tapenade, pulled chicken coated with chipotle ketchup, chargrilled peppers, mozzarella, feta and chilli salt
Creamy Garlic Mushroom – comprising a mature Cheddar béchamel sauce, roasted mushrooms, garlic butter, mozzarella, Italian mature cheese and chopped parsley
Mixed Meaty Pizza Box – containing a slice of freshly baked Prosciutto & Mozzarella Focaccia Pizza and a piece of freshly baked Chipotle Chicken & Feta
Mixed Veggie Pizza Box – which includes a piece of freshly baked Tomato, Mozzarella & Pesto and a slice of freshly baked Creamy Garlic Mushroom.
A new Three-Cheese Garlic Bread, made with baked focaccia, garlic butter, greve, mozzarella and Italian cheese, has also been unveiled.
Pret is also giving customers the opportunity to select a hot wrap, bake or pizza for from a set menu deal for the first time. Pizza enthusiasts can select from a Pizza Combo set menu which includes a side salad, sweet potato wedges and a dip.
"We've been hard at work, continuing to develop and evolve our Dinners range and are proud to have created a new menu inspired by Pret classics and customer requests," said Briony Raven, UK food & coffee director at Pret A Manager.
"After a long year, people are experiencing takeaway fatigue, so we're excited to be able to offer the Pret cooking people already love for breakfast and lunch, now for dinner."