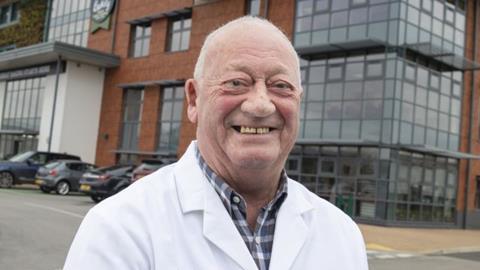 Alan Jones, founder of Wrexham-based Village Bakery, says being awarded for his Outstanding Contribution to the Baking Industry was "unforgettable".
"It made me feel extremely proud to be recognised by my industry peers after a long career of 50 years in the baking industry, having started at the bottom and worked my way up," he tells British Baker.
Jones left school at 15 with no qualifications, before starting as an apprentice at Scotts in Liverpool.
His four-year apprenticeship involved six months at college alternating with six months' work, and he gained experience at three other bakeries.
After completing his apprenticeship, in 1963 Jones returned to Scotts, then became a trainee manager at Cookson's in Lytham, followed by bread production manager at Country Maid in Saltney, Chester, where his father worked.
In 1964, Jones and his father bought a bakery in Wrexham, paying £5,000 for it at a time when his wage was just £20 a week.
Now aged 73, Jones has transformed that back-street bakery, which once employed five staff, into an award-winning business with three bakeries, 450 staff, and customers ranging from independents to national retailers.
Meanwhile, he has given plenty back to the local community, being a supoprter of the Hope House Hospice and backing a half marathon. He has also been a driving force behind the creation of a nature reserve.
When he attended the Baking Industry Awards ceremony in London last September, Jones had no idea that he was going to receive the award.
"It came as a total surprise because my sons [Christien and Robin Jones, projects director and managing director at Village Bakery] got me there under a false pretence. They said one of our customers had cancelled at the last minute and we had a couple of spare seats," he explains.
Before Jones was called up on to the stage to collect the award, Sébastien Guibert, sales director UK & Ireland at Délifrance – which sponsored this award – spoke about why he had been chosen.
"I hadn't twigged they were talking about me on stage until my wife turned to me and said: 'Alan, they're up there talking about you'," Jones says.
He and his wife Wendy celebrated the win with a few glasses of wine on the night and spent the journey back to north Wales the next day reflecting on the evening.
"It was an unforgettable 24 hours," Jones says. "To win is a validation of everything I have done over the past 50 years.
"We are a family of bakers so winning two awards, this and Free-from Product of the Year (see p16), was a very special moment. It's a memory we will treasure as a family."
Know someone worthy of this award? Enter them for Outstanding Contribution for the 2020 Baking Industry Awards via this link.
Sponsor's comment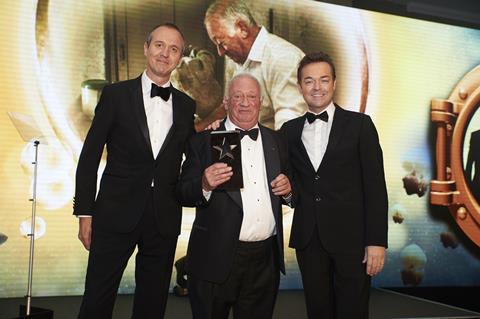 It was a great honour for Délifrance to give the award for Outstanding Contribution to the Baking Industry to Alan Jones. He is a person of vision and a true entrepreneur.
Starting with a local bakery, a few years later Alan spotted a trend and started a savoury business. Fast-forward a few more years and he saw another growing trend in the bakery market, finally investing in a gluten-free facility, way before anyone started to look at the sector on a grand scale.
His nomination stood out, both for his many business achievements and how communities and charities benefited from his success.
Sébastien Guibert, sales director UK, Ireland & North America, Délifrance