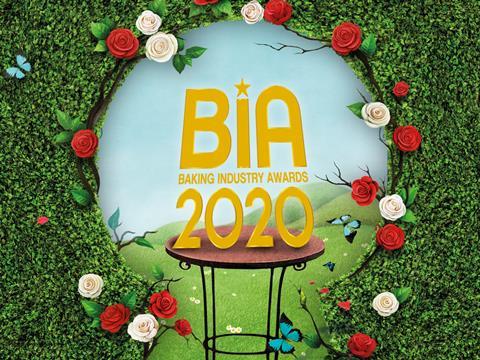 British Baker is pleased to announce the finalists for the Baking Industry Awards 2020.
Our panel of expert judges faced some tough decisions this year, whittling down hundreds of entries to the 36 finalists listed below.
The winning products, people and businesses will be announced at an online awards ceremony on Wednesday 20 January at 18:30.
"Firstly, I'd like to congratulate all of our finalists," said British Baker editor Amy North. "I'd also like to say a massive thank you to everyone who took the time to enter the awards. The judging process was harder than ever and the stories we uncovered were truly inspiring."
There's also still time to nominate your bakery hero for Outstanding Contribution to the Baking Industry, sponsored by Délifrance. This person will have gone above and beyond the boundaries of their paid salary to help, encourage and support others within the industry throughout their career. To nominate someone, click this link. Entries must be completed by Friday 20 November.
The finalists for the Baking Industry Awards 2020 are:
Baker of the Year
Sponsored by Brook Food
Daniel Nemeth, Seasons Bakery
John Lognonné, Davidson of Darras Hall
Steven Winter, Bread Source
Bakery Exporter of the Year
Sponsored by St Pierre Groupe
Bells of Lazonby
Vittles Foods
Walker's Shortbread
Bakery Innovation Award
Sponsored by Stork
Caramel Crunch Muffin, Clam's Handmade Cakes
Danish Rugbrød, Lovingly Artisan
Sourdough Toastie Loaf, Seasons Bakery
Bakery Manufacturer of the Year
Sponsored by Reiser
Geary's Bakery
Proper Cornish
Seasons Bakery
Celebration Cake Business of the Year
Sponsored by Renshaw
Brown's Handcrafted Cakes
Cakes by Carina
Julie's Cake in a Box
Free-from Bakery Product of the Year
Sponsored by Ingredion
Cranberry and Pumpkin Seed Cob, Just: Gluten Free Bakery
Maple Pecan Cookie Dough Doughnut, Wildcraft Gluten Free Bakery
Marks & Spencer Made Without Wheat Hot Cross Buns, Ultrapharm
Out of Home Business of the Year
Sponsored by Rich Products
Broken Clock
Costa Coffee
The Little Kitchen
Speciality Bread Product of the Year
Sponsored by Bakels
Carrot Sourdough, Poppyseed Bakery
LivLife Super Seeds Half the Carbs, Nicholas & Harris
Mrs Kirkham's Cheese and Marmite, Lovingly Artisan
Supermarket Bakery Business of the Year
Sponsored by Lantmännen Unibake
Asda
Marks & Spencer
Morrisons
The Craft Bakery Business Award
Sponsored by Dawn Foods
Bread Source
Coopland & Son
Grant's Bakery
The Customer Focus Award
Sponsored by Lumina Intelligence
Grace's Bakery
Rich Products
Wildcraft Gluten Free Bakery
The Rising Star Award
Sponsored by Rondo
Annie MacKenzie, BBF
Katie Garrett, University College Birmingham
William Leet, David Wood Foods