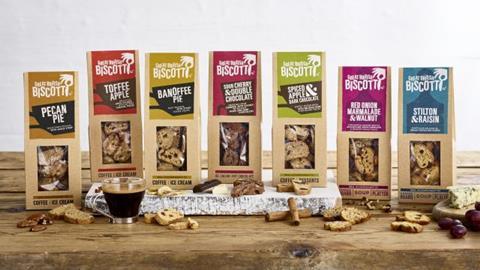 Paul Rostand, owner of Dorset-based Great British Biscotti Co, on how collaborating with customers Hotel Chocolat and the National Trust led to it winning the 2019 Customer Focus Award.
Great British Biscotti Co sought to break the mould when it began life three-and-a-half years ago with its portfolio of sweet and savoury biscotti. Its 20 flavours range from coffee & walnut to chocolate orange and even parmesan & fennel, as well as Indian spice.
"What we do is unique within the baking industry, particularly in relation to biscotti, as our products are very different to the rock-hard, dry Italian products," says Paul Rostand, owner of Great British Biscotti Co. "Everyone has heard of sweet biscotti, so we expected to sell more sweet ones than savoury, but people have already bought into the savoury range because it is truly unique."
It was this kind of thinking that garnered the attention of coveted customers Hotel Chocolat and the National Trust, as well as the judges at the 2019 Baking Industry Awards (BIA), who rewarded the company with the Customer Focus Award.
"Working with them is a real endorsement for the quality of our products," he adds. "They've been really happy for us winning the award, but also with the service we have been giving them."
The partnership has seen Great British Biscotti Co create bespoke products for both organisations.
"We always put the customer at the heart of our business," Rostand says. "We always want to achieve and exceed the expectations of our customers and, whether that is through product quality or customer service, we have to fulfil their needs 100%."
Being a smaller firm that makes things by hand gives it the flexibility to make changes based on customers' needs as it's not constrained by the capabilities of machinery. This even allows for Hotel Chocolat's development chef to work on-site when creating new products.
As for the BIA experience, Rostand says "it's something to be cherished". "We're a relatively small company that hasn't been going that long, so to win is such an amazing accolade for us and the team back at the bakery."
He adds that the BIA are a great opportunity to showcase a business and to show the rest of the market what you are doing.
"There are so many VIPs at the awards who hear about your company – it's such great exposure – and an endorsement for your hard work."
Paul Rostand, owner of Great British Biscotti Co, is presented the award by John Lindsay, CEO of sponsor CSM Bakery Solutions, and event host Ashley Roberts
Sponsor's comment
"Great British Biscotti Co had a clear objective, which focused on delivering an ambitious category-first, while putting its customers at the heart."
Ellie David, marketing manager, CSM Bakery Solutions