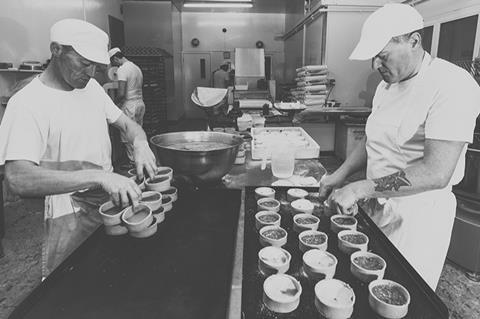 Cake and pie producer Murray's Bakers of Perth has evolved from a small shop and tearoom to an award-winning bakery famed for its Scotch pies
According to family history, John Murray arrived in Perth from Glasgow with just a shilling in his pocket. From this humble start, in 1901 he opened a bakery and café on the corner of County Place and New Row. The business also offered catering services for events including the police balls in City Hall.
The bakery moved to its second site on South Street in 1911, close to the previous shop and tearoom, then to another location on the same street in 1915.
John's children Margaret and John joined in 1921, followed by their children, John and Alexander (aka Sandy), in 1957. Alexander went on to become Murray's master baker.
The bakery was forced to move again in 1985 to make way for the building of the St John's shopping centre, taking up another unit on South Street.
Murray's has become known for its pies and bridies, in particular, with an advert dating back to 1968 declaring the business is 'famed for its pies'. Over the years, the range has expanded with popular bakes such as curry pies, steak pies, sweet slices and filled rolls.
"We are an institution in Perth – everything is baked fresh daily in the bake house, which is attached to the shop," explains Murray's managing director Linda Hill. "We have a great reputation in Perth for using the best products, being a very hands-on bakery and keeping our prices as competitive as possible."
Linda, Alexander's daughter, began working for the bakery in 1987 and later became her dad's business partner. Following his retirement, she became a sole trader, before Murray's evolved into a limited company. As a long-time member of Scottish Bakers, Linda became a board member in 2013, is currently president-elect and will become the association's president in 2021.
The bakery has won several awards, including the World Scotch Pie Championship in 2015 and Scottish Bakers Craft Baker of the Year in 2017.
The shop closed in March with the coronavirus lockdown but reopened last month.
"Moving forward, we will be looking into deliveries. We have to see how the shop goes once we open back up as I don't know if the pull's going to be there now," adds Linda. "For the next half of this year, we will be building our business back up again, doing everything we possibly can to ensure its survival and trying to get things back on an even keel."
The business is currently open, with social distancing measures in place, including having only two customers and two servers in the shop at a time.
Timeline
1901: Murray's is founded by John Murray
1911: Moves to a second unit on South Street, Perth
1915: Moves to another South Street site, and again in 1985
1987: Linda Hill (pictured) begins working at the bakery
2015: Wins the World Scotch Pie Championship
2017: Murray's wins Scottish Bakers' Craft Bakery of the Year
2020: Linda Hill becomes president-elect of Scottish Bakers