"It really was touch and go for us," admits Bad Girl Bakery owner Jeni Hardie. "At the beginning of lockdown, we had no idea if we were going to get through or not."
As lockdown hit, Hardie made the tough decision to temporarily close her cake shop in Muir of Ord in the Scottish Highlands. It wasn't an easy one to make, but as the wholesale side of the business, which served visitor centres, collapsed and footfall from nearby areas dwindled it felt like the right one.
The government furlough scheme "undoubtedly" provided financial support during this period, which saw all staff (except those of school age) furloughed.
Hardie kept herself busy, and connected to the community, via a blog in which she shared some of Bad Girl's most popular recipes until it was time to open again, albeit with a few changes.
"It didn't feel appropriate for us to open any earlier than phase two in Scotland where there are fewer restrictions and more movement," she says.
Prior to re-opening in mid-June, the shop was revamped to make the most of the space – the café, for example, couldn't operate for the foreseeable future – and updated safety measures put in place.
"We've done everything to the letter," Hardie says, noting that she even ran her plans by the local environmental health office prior to opening.
For staff, measures include operating with a skeleton crew, updated working schedules and masks. For customers, it's card payments, hand sanitiser and only two people allowed in at once.
"I didn't want it to feel like a post lockdown shop or a temporary measure"
But Hardie was insistent that all measures had to be communicated in a welcoming way.
"When you're buying cake, the experience has to be a positive one," she adds.
It worked. Fans of Bad Girl's cakes, buns and savouries have been queuing round the block with the bakery regularly selling out of treats in the first couple of weeks since opening. The bakery even rolled out a call and collect system for customers who would prefer to treat themselves without coming into the shop, meaning they can pick their treats up via a delivery hatch.
One part of the revamp saw the café transformed into a shop selling a selection of bakery-related goods, including DIY cake kits made by Bad Girl Bakery, as well as homemade jams, chutney and fudge and ingredients used by the bakery.
"I wanted it to feel cohesive. I didn't want it to feel like a post-lockdown shop or a temporary measure," she explains.
It's proved to be such a success that Bad Girl hopes to make it a permanent fixture, even once the café is able to reopen. But there's a lot of work ahead of the small team.
"The truth is, I don't feel like we're out of the woods yet," she admits. "But I feel relieved that we are open and really hope we have done enough to get through."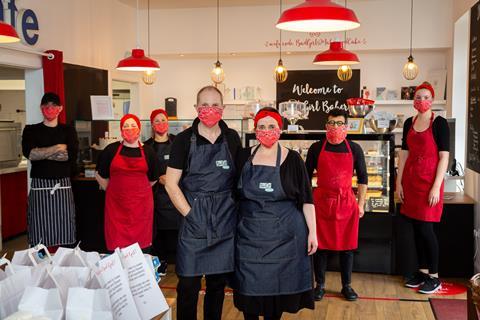 Extra precautions: Safety was paramount for Hardie, who has added extra measures to keep staff and customers safe. This included redesigning the bakery to allow for social distancing and for bakers to have their own bits of kit, staggered start and lunch times and masks.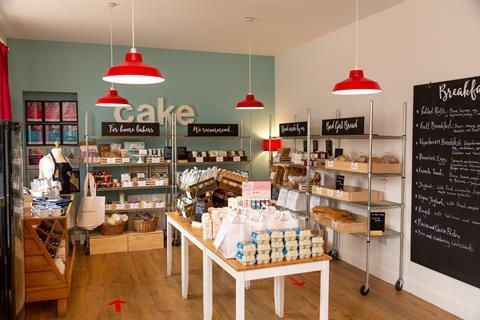 Cake shop: Bad Girl Bakery transformed its café into a shop designed to cater for home bakers looking to recreate the Bad Girl bakes at home. "I really hope it continues to be part of our future. I envisage that when we are able to have a café, we will be able to keep the retail side as well."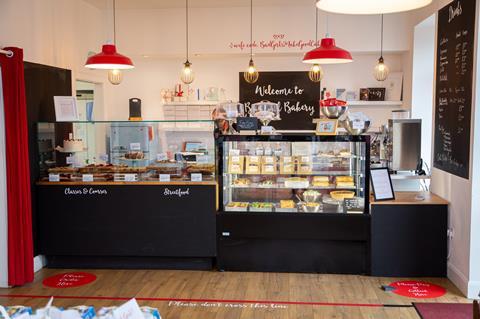 Redesigned counters: "What we wanted to do was make sure all the physical safety measures were there, but without being off putting," says Hardie. "Instead of putting screens up we redesigned the display so that became the screen." New, taller fridges and cake displays were installed as a result.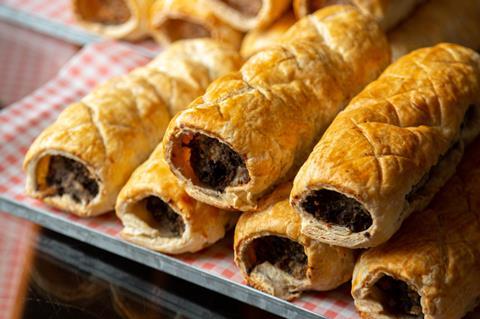 Sausage rolls: Bad Girl Bakery's gourmet sausage rolls were a hit with customers before lockdown and maintained their bestselling status as the shop has reopened. "The popularity of our sausage rolls meant that we cleared the local butcher out of sausage meat," Hardie adds.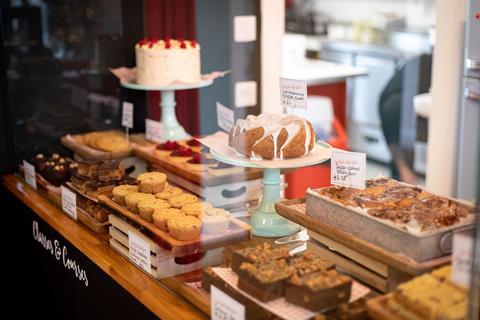 Cake counter: Cakes have always been at the forefront of the bakery's offer and Hardie puts a lot of thought into designing each display. "A lot of cake is square and brown, so when we're designing a display, we're thinking about all the different types of customers. We try to design it's with lots of shape, lots of variety of colour and texture so everything isn't chocolately, oaty or biscuity."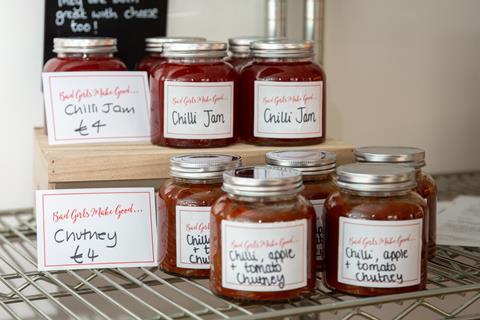 Homemade chilli jam: "I decided that everything we sold had to be linked to us in some way – it had to be inspired by us, made by us or something we recommended," Hardie says, explaining her decision to opt for bakery ingredients, jams, fudges and chutneys in the shop, as opposed to basics such as fruit and veg. "We wanted to share things, to tell customers 'here's the chilli jam we put on our burgers', 'the rub we use on our potato wedges'."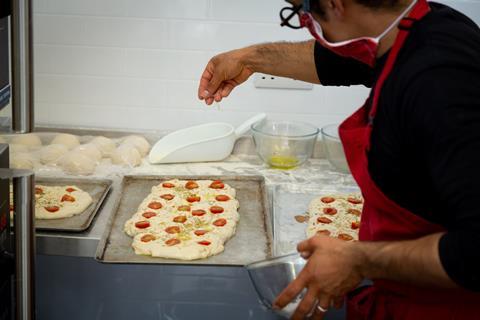 Speciality bread: One of the new additions to Bad Girl Bakery's range is speciality bread, such as flavoured focaccia, pitta bread and coconut flatbread. "We have a more traditional baker in the same village, so we wanted to make sure not to sell the same things as them," says Hardie.