A visit to GR Wright & Sons' new mill in Harlow, Essex, provides the perfect insight into the past, present and future of milling in the UK.
A walk up the stairs of the site's offices offers a glimpse of the six-generation flour firm's history, with photographs on the walls providing a sepia-tinged view of the company's 150-plus years in Ponder's End, Enfield.
David Wright, managing director, admits the decision to build the new facility in Harlow, north of its traditional base, wasn't made before exploring other options.
"We looked at lots of ways to put a new plant on that site but you end up spending a lot of money and you still have a compromised site because you've got old buildings there that are protected and listed that you have to work around," he explains. "So, in the end I decided that we'd go for it here."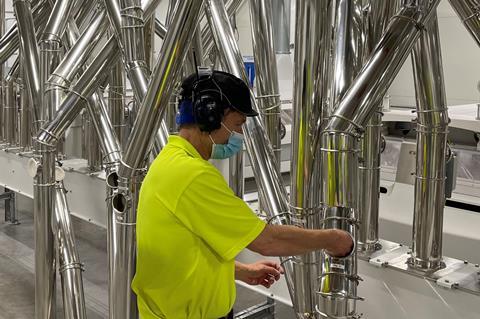 New beginning
The site opened in January 2021 after a development plan dating back four years and an investment to the tune of £47m. The project is now pretty much complete, having overcome the obstacle of the pandemic, which last April saw the number of contractors on site shrink from 150 to four "pretty much overnight".
"We bought the land late 2015, early 2016," Wright explains. "It was owned by defence contractor Raytheon, and the factory here was old and not appropriate for milling, with 1960s prefab buildings, so we knocked it all down.
"The only thing we left was the gate house in the yard and the office, which used to house hundreds of people over three levels, so we've got plenty of space. The middle floor is completely empty, and we'll use that in the future for bakery and testing."
'The best' – at a price
The build itself started January 2019, with Clegg Food Projects as principle contractor. Bühler of Switzerland supplied the milling plant, installed by Salford Engineering.
"Bühler are the best in the world," Wright enthuses, before adding, "although not the cheapest by any means." The investment, though, was money well spent, insists the MD. "We had looked at other milling engineers but when you're spending a lot of money, you want to be sure they're going to do a good job and stand by you."
James Wright, David's son and production director, explains that the mill, which has a capacity of 450 tonnes a day, is "pretty much fully automated".
"We decided we still want a human presence within the plant, so we transferred millers across from Ponders End," he adds, "but in terms of automation, you can schedule jobs and it runs itself."
All these things integrate and allow us to create a product that's consistent and very high in quality
However, the high-tech operations go much further than that, as he explains. As well as online flour analysis, which continuously monitors elements such protein, moisture, water absorption and bran specs to allow for momentary adjustments, the mill uses a new system called Bühler Insights.
"It aggregates all of our production data into the Bühler Cloud so we are then able to use this data to drive up efficiencies throughout the plant," James explains. "So, we have error downtime analysis, which tells us about breakdowns over a shift, where they occurred and which machines went down.
"There's also yield analysis, telling you when the extraction is going up and down, and why that's happening. All these things integrate and allow us to create a product that's consistent and very high in quality."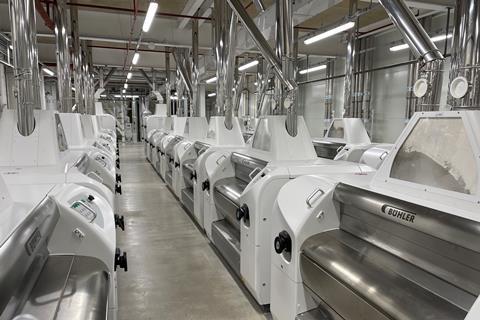 Room to grow
The supervisory control and data acquisition (SCADA) system, called Mercury, also helps to keep the mill on the cutting edge, as will updating technology as it develops. "We're the first miller in the UK to have this control system running the plant," James explains. "We can add different modules to Bühler Insights in the future to add further functionality."
The future proofing doesn't end there, though. The Wrights reveal that the site has been designed "to enable us to add another mill or to add more storage… so there's a space for every element to be duplicated".
GR Wright & Sons, Halow: tech spec
Fully automatic wheat intake system utilising bar code technology to allocate and route wheat to intake silos
Ability to carry out 'lights out' fully automated milling operations
Bühler Air Makeup System monitoring building temperature and pressure with control system for the filtered process air
Latest generation Mercury SCADA software control of plant
Bühler MYRG technology Continuous Online measurement of finished products
Bühler Insights for detailed downtime analysis, operational efficiency and yield management
Recipe-driven automatic roll gap adjustment
Automatic roll temperature monitoring
Blackbird machine-monitoring software on all packing equipment to analyse downtime and operational efficiency
Mettler Toledo Freeway software for data recording of check weighs, metal detection and attribute records of quality data and operator checks.