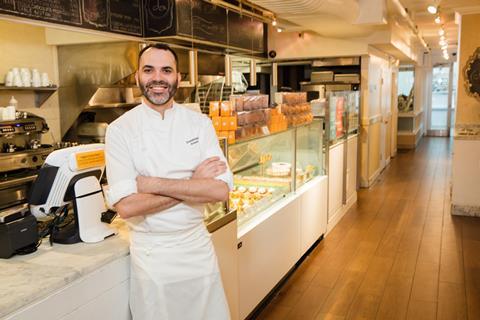 Cronut creator and pastry chef Dominque Ansel is to permanently close his two sites in London.
The Dominique Ansel Treehouse, a bistro and bakery in Covent Garden that first opened February, will not reopen while the Dominique Ansel Bakery in Victoria, which opened in 2016, will close its doors for the final time on 31 August.
"London has been so wonderful and so supportive to us. Unfortunately, our licenser has told us that, in the light of the ongoing restrictions caused by the coronavirus pandemic, they do not think it will be possible to continue operating either location profitably," said a spokesperson.
In the meantime, the bakery is taking part in the Eat Out To Help Out (EOTHO) initiative, with several specially selected items on the menu to celebrate Ansel's four years in the capital.
These include:
The Last Cronut (pictured below): Priced at £5, or £2.50 on the EOTHO scheme, the Milk Chocolate & Peanut Butter Cronut is filled with milk chocolate banana ganache and silky whipped peanut butter ganache.
Fruit & Vegetable Patch Afternoon Tea: Available for Afternoon Tea Week, which takes place from 10-16 August, the menu is inspired by a garden. It features sweet and savoury bites that celebrate fresh produce and seasonal harvests, complete with fresh-baked scones, homemade berry jam and clotted cream. It's priced from £39, or £29 with EOTHO.
Welsh Rarebit Croissant: The croissant, one of three items designed exclusively for the London menu, and therefore never to be seen again, includes a croissant filled with Guinness Worcestershire cheddar béchamel and a bit of wholegrain mustard, topped with melted fontina cheese.
Liquid Caramel Peanut Butter Mousse Cake: Another London exclusive, the cake is made with caramel crémeux, peanut butter mousse, cinnamon and caramelised puffed rice.
After the Rain: Rounding off the trio is a cake that features a crisp praliné feuilletine base, a fragrant jasmine mousse, and a pear & ginger gelée.
Ansel's signature items, such as croissants, almond croissants, brownies and Cannelé de Bordeaux, will also be available.