It's no secret – even if you had somehow avoided all media over the past six months, your bills would have delivered the bad news by now: energy costs have gone through the roof and show no sign of coming back down anytime soon.
"At a time when energy costs are continuing to have a significant impact on craft bakeries across the country, operators are looking at ways to maximise the efficiency of their business – saving costs and driving profits in the process," explains Scott Duncan, managing director of Unox.
He believes there's one piece of equipment that should be at the centre of such money-saving strategies: the oven. "As an appliance used consistently throughout the day, the efficiency of an oven is one of the first elements to be put under the microscope," he insists.
Fundamental to oven energy efficiency is ensuring that its design is suitable for the bakery's needs. "Different types of ovens have different heat transfer concepts and are therefore built in different ways," explains Ann Wells, commercial director at Brook Food & Bakery Equipment. "Each oven is capable of baking, but each one is developed to give the maximum in baking-specific products."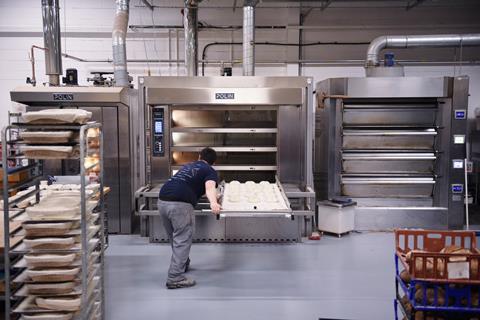 For example, tube ovens are suitable for baking large loaves with thick crusts that require extreme thermal stability throughout the baking time. However, due to their large thermal mass, they are not well suited for the production of goods that need sudden and frequent temperature changes during the day.
Electric deck ovens, meanwhile, can handle the baking of different types of products at the same time thanks to differentiated management of the temperatures between the different decks – and even in the same deck in some cases – giving the oven a high degree of flexibility in terms of application and energy usage.
Rack ovens, Wells explains, are especially suited for small to medium products with a thin crust, with the loading and unloading systems fundamental in allowing fast and continuous production, even for semi-industrial batch producers.
Technology
When it comes to driving efficiency, it also pays to look at the technology and design features of your oven, ensuring they are utilised to their maximum capability, says Duncan of Unox. In the case of his company's latest models, such as the Bakerlux Speed Pro and Bakertop Mind Maps range, this means the use of linear heating elements, high-performance heat exchangers and up to six close-pitch fans that achieve an optimum airflow throughout the oven chamber.
"The design and capability of the heating elements also achieve a rapid heat-up time, going from 30°C to 300°C in just 270 seconds," Duncan explains. "This reduces the need for lengthy pre-heating, significantly saving on energy consumption in the process."
Another advocate of energy saving through technology is Richard Norman, national account manager – specification & projects at Jestic Foodservice Solutions. He believes "top-tier controllers" are a sure-fire route to efficiency and cites the example of Sveba Dahlen ovens fitted with the latest SD Touch panel that can be set to automatically turn on at a specific time. Devices such as these, Norman explains, make it easier for bakers to plan and ensure the oven is only on when it needs to be.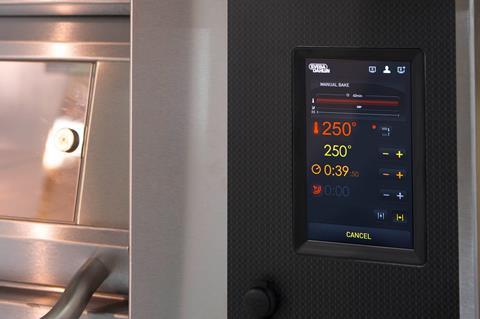 "The oven can be at the right temperature when a baker arrives in the morning and they can then select the item they wish to bake via the touchscreen panel," he says. "The oven will then automatically take care of the baking process with precision and total quality control."
Similarly, Mono ovens have auto shutdown and a number of other energy-saving features built in, says Roy Kitley, the bakery equipment supplier's senior marketing manager. Among these are sleep mode, returning the oven to an optimum core temperature during periods of inactivity to ensure it can get back to bake temperature as quickly as possible without wasting energy unnecessarily while standing idle on full power.
Returning to the example of the SD Touch controller, another advantage is that it can connect to the cloud and provide users with a clear overview of operational statistics, from energy consumption levels and maintenance checks, says Jestic's Norman.
Wells of Brook Food also believes in the value of getting to grips with the usage habits of an oven through technological means. "If the oven does not have to bake for a medium-long time, the operator can take advantage of electronic functions that help them reduce energy consumption," she explains, and offers the example of Polin models that are equipped with functions specifically for this purpose. The BUI – which stands for 'better use indicator' – provides percentage figures and colours (green, yellow and red) to make the user aware of usage levels and allows the setting of goals for continuous daily improvement.
One of the most important actions to take is to maximise the output of the oven
With a wealth of commercial ovens on the market boasting features such as these, a challenge for potential purchasers is to ensure they get the maximum from them. "We would advise bakers to get to know the full capabilities of their ovens and, if necessary, get training so they can take advantage of all the benefits," Kitley says.
Fundamentals
There are a number of steps bakers can take to increase the efficiency of their ovens regardless of technology and the latest electronic features. Some will be specific to particular oven type, but many will be relevant across the board, Kitley insists.
"One of the most important actions to take is to maximise the output of the oven," he explains. "Sometimes, this might require baking a batch of different products at the same time, as long as they have the same bake profile to make each bake as efficient and productive as possible."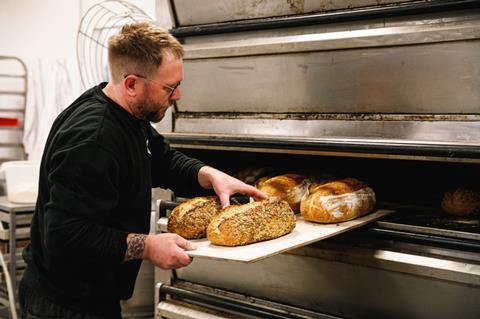 John Jones of Bristol-based Bakehouse at Cakesmiths has various baking strategies to maximise oven efficiency. "We bake mainly off-peak," he says. "We use a Chandley oven that reaches temperature quite quickly so waste as little time as possible in having empty ovens.
"For times when we're starting from scratch – at weekends – we have a timer to preheat the ovens while we're still sleeping."
To shorten the bakery's baking window, the bread is cold proved so it can be taken from the fridge and baked straight away without the "lottery" of ambient proving times, Jones explains. "Something I learned while doing City & Guilds years ago was to bake on a falling heat," he adds. "We start with ovens at their hottest and bake in a specific order. Working down from large breads, baguettes, ciabattas, rolls, pastries, sweet dough and so on, and often finish with the ovens switched off to slow-roast vegetables and meats for sandwiches and salads."
It's also important to remember the basics. As Kitley points out, the most important thing a baker can do to improve energy efficiency is to ensure the oven doors are not left open for any period longer than is absolutely necessary. The structure of the door can also have an impact on energy efficiency. The Convotherm Maxx Pro combi oven, for example, features a triple-glazed door that offers "higher energy efficiency and improved safety achieved through optimal heat insulation", according to Steve Hemsil, sales director – UK & Ireland for Welbilt.
Small niggles or minor problems can often be identified and nipped in the bud before they develop into major issues that may result in extended oven downtime
Similarly, EPP partner MIWE's latest rack oven, the Roll-in E+, has been optimised for maximum energy yield by starting with the smallest components, such as the steam-proof door seal, explains Steve Merritt, MD of EPP: "Heat-insulated glass ensures the heat stays in the chamber."
Maintenance
Of course, even the most up-to-date, energy-efficient oven is prone to wear and tear. That's why regular servicing by a qualified technician is essential, says Mono's Kitley. "Small niggles or minor problems can often be identified and nipped in the bud before they develop into major issues that may result in extended oven downtime, loss of business and a hefty spare parts and labour bill."
Andy Howard, a chartered engineer with food and hygiene segment specialist Rocol, is a firm advocate of regular lubrication. "Similar to a car, bakery ovens need to be serviced regularly. This includes lubrication of the oven chain, if it has one, drive gearboxes and bearings. Failure to do this servicing can be a costly mistake."
But when push comes to shove, there's no doubt that ovens have an efficiency shelf-life so it could simply be that an upgrade is necessary. "A 30-year-old oven with poor insulation and poor combustion systems will be using something between 30 per cent and 40 per cent more energy than a modern oven," explains Merritt of EPP. "There are large numbers of very old ovens out there. Users need to know there are real benefits to upgrading to modern, high-insulated and efficient ovens."
An oven overhaul was the strategy Sandor Bagameri, manager of Stir Bakery in Cambridge, chose. His business has recently invested in two new electric deck ovens to replace 30-year-old appliances.
Dan Booth, director and head baker at Darlington's Bakerman, is planning to scale up and says energy efficiency will be a top priority when it comes to oven choice. "We will be looking to get a big 20-tray, steam tube deck oven and obviously that's going to use a hell of a lot of electricity, so the more economical the better, really, and I'd be happy to pay more money for a more economical oven up front," he says.
ADVERTISEMENT: EPP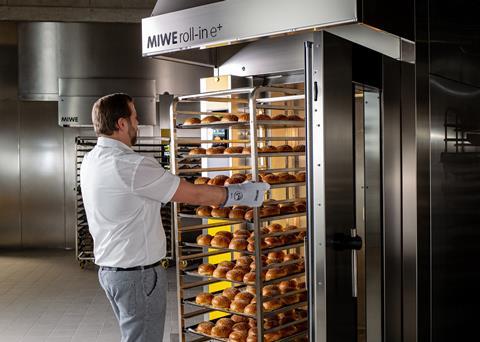 MIWE ovens – supplied exclusively by EPP in the UK and Ireland – have been making life easier for bakers for more than 80 years. The company is Europe's largest and most successful manufacturer of rack and deck ovens.
EPP has worked with MIWE for many years and together they have forged a reputation in the baking and food manufacturing industries for delivering top quality products and excellent support and maintenance services. Its range of solutions include hot air convection, radiant heating and thermal oil technology.
MIWE continues to advance its product line to deliver further enhancements and improvements for bakers, including its latest MIWE roll-in e+ rack oven, which now offers MIWE Heat Flow technology, better steam device performance and improved insulation.
MIWE listens to its customers' requirements and, as a result, has a product range to serve its customers with distinction, be it in foodservice, artisan, or industrial environments.