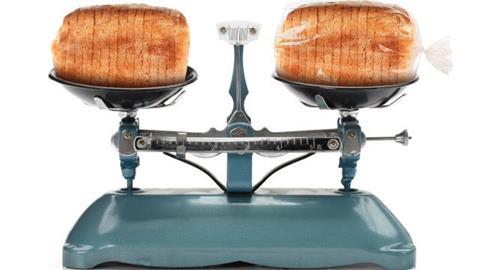 The Attenborough effect is in full swing, leading companies across the baking industry to reduce the amount of plastic they put on the market. Here's what progress has been made so far…
Ditching plastic isn't an easy or clear-cut task. Manufacturers, brands and retailers face a constant barrage of complaints from consumers voicing disgust at the levels of plastic packaging on supermarket shelves but, in many cases, it's not as straightforward as simply removing it.
Take Sainsbury's. This year it committed to scrapping plastic bags for loose bakery items in all stores. But, as many customers don't want their naked croissants rolling around in trolleys, it is offering paper bags to wrap them in instead. However, as the retailer admitted on social media, paper bags take up more space than plastic ones, affecting the number of vehicles on the road and Sainsbury's carbon footprint.
Fast-food giant McDonald's, meanwhile, came under fire for replacing plastic straws with paper alternatives that some claimed were ill-equipped for slurping milkshakes and, reportedly, not recyclable. The move prompted 50,000 people to sign a petition to bring back the original ones.
So, what's a bakery business to do in the face of all this confusion? What alternatives are there to plastic, and how much weight should be given to plastic-free options versus recyclable plastic ones?
Several companies have made the leap to plastic-free packaging this year, while others have significantly reduced the amount of plastic in theirs.
One such brand is Pieminister, which launched plastic-free packaging for all its pies and its latest NPD, patties. Notably, this came with an increased cost that the business has absorbed.
"We removed the plastic window in our pie retail boxes and replaced this with a translucent material called Clarifoil, which is made from wood-pulp and biodegrades in just eight weeks. We also removed the plastic trays in our gluten-free packaging by increasing the pastry thickness slightly," explains Jon Simon, managing director and co-founder of Pieminister.
For the outer wrappers on the new patties, Pieminister opted for Natureflex which it says looks like plastic but is made from biodegradable wood-pulp material.
Pep & Lekker, meanwhile, is using compostable pouches for its range of Seed Snacks, although this wasn't the brand's first choice.
"When we launched our Seed Snacks, we chose the most environmentally friendly packaging available, which was a fully recyclable/compostable paper offering. Unfortunately, it soon became clear this packaging didn't provide the moisture barrier required, which undermined our wider brand promise," says Pep & Lekker co-founder and director Susan Gafsen.
She admits the new material, which has a moisture barrier that guarantees a minimum shelf life of six months, is more expensive than plastic, posing "a huge challenge for a young start-up where a stable bottom line is all-important".
"There will always be products with superior environmental credentials, however at this time their limited exposure means they come with an eye-watering minimum order quantity that is beyond many businesses' means," Gafsen adds.
This is echoed by Stuart Spencer-Calnan, managing director at Roberts Bakery, which has undertaken a 21 month-long journey to reduce the plastic in its bread bags by 53%. "We would advise companies to design packaging for recyclability not just commerciality, understanding how to drive purpose with profit. It is no use devising a wonderful solution that puts you out of business," he says. "There is no off-the-shelf, quick-fix solution to reducing plastic in packaging for pre-packed loaves."
Another major barrier to the use of alternative packaging materials is the number of waste collection systems in operation in the UK, meaning that what's recyclable in one area might not be in another. Couple this with confusion over the term compostable, which often means industrially compostable (EN 13432) rather than suitable for home composting, and things get complicated.
That hasn't deterred everyone. Packaging supplier Planglow says demand for compostable packaging suitable for use with hot bakery items has tripled since 2015. To ensure these were properly disposed of, the company undertook research in 2016 to investigate which industrial composting sites and anaerobic digestion facilities in the UK would accept compostable food packaging post-use.
"We were disappointed to find that the number of facilities accepting mixed packaging and food waste was so low, due to the risk of contamination from non-compostable products," says Planglow managing director John Scott. "This makes the industry understandably cautious and the situation has not been helped by products claiming to be compostable when they are either taking too long to break down or not breaking down at all."
For some items, plastic is still the most effective means of transporting goods to the consumer, according to Graham Kershaw, managing director of Macpac.
"It is broadly accepted that food has a significantly higher carbon footprint than the packaging it comes in, and experts say food waste in general produces three times as much carbon as packaging waste. This is the crux of why the supermarkets are working so hard at still being able to work with plastic," he says. Kershaw believes recyclable plastic and an end to single-use plastic should be at the forefront of conversations. As well as increasing the recycled content of plastic in packaging, this is broadly in line with the UK Plastics Pact, which a number of high-profile bakery companies have committed to.
"You should be prepared to act, not just pledge, and do something to get started – even if it is just a small step," says Spencer-Calnan. "It is OK to accept you almost certainly can't be perfect in one step."
Roberts Bakery
Roberts Bakery has switched four of its lines – Thick Soft White, Mega Thick Soft White, Medium Soft White and Classic Wholemeal – from plastic packaging to a "sustainably-sourced paper bag" with a thin plastic lining in what it described as a "very challenging process". Coupled with its Bloomer and Digestion Boost range,
the new packaging is used on around 20% of Roberts' annual
bread production.
Flower & White
Shropshire-based meringue specialist Flower & White claimed to be the first confectionery company to adopt plastic-free packaging earlier this year. "We chose the paper-based earth pouch, which has a heat-sealable coating. It's a material that will protect the product from a food safety perspective with regard to porosity, and is also fully biodegradable," explains co-founder Leanne Crowther.
Pieminister
Pieminister completely removed plastic from its packaging. Boasting the 'Plastic Free' logo, its pie boxes are made from fully recyclable card and a transparent outer made from wood pulp. "We did lots of consumer trials on whether our products needed a window or not, and our consumers told us they wanted to see the pie they were buying," explains Jon Simon, managing director and co-founder.
Pep & Lekker
Plant-based snacking start-up Pep & Lekker switched its packaging material as part of a rebrand and NPD launch in June. Choosing to go down the compostable route, its new pouches are made from a bio-based compostable laminate by packaging manufacturer Tipa. "As a fresh-faced start-up, it's certainly not easy to be sustainable in all that we do. However, packaging is one brand arena where we should strive to do all that we can," notes co-founder Susan Gafsen.
PPMA show to be held at NEC next month
When: 1-3 October 2019
Where: NEC Birmingham
What:Now into its 31st year, the Processing & Packaging Machinery Association (PPMA) show will return to the NEC Birmingham to showcase the latest in smart manufacturing, processing technology and packaging machinery.
As the UK's largest event dedicated to the industry, more than 450 exhibitors will be on display, showcasing more than 2,400 brands with new product launches and technological innovations. For the food sector this means weighing, bagging, sealing, palletising, and more equipment. Visitors can also take advantage of a programme of seminars led by industry experts.
Natasha's Law: How will it impact small operators?
Natasha's Law, new legislation that will tighten the rules by requiring foods pre-packed directly for sale to carry a full ingredients list, is set to come into force at the end of the summer 2021.
Announced in June by then environment secretary Michael Gove, it follows the death of teenager Natasha Ednan-Laperouse, who died after suffering an allergic reaction to sesame used in the dough of a Pret A Manger baguette.
However, some in the industry have raised concerns about the move. Currently, food prepared on the premises in which it is sold is not required to display allergen information on labels.
UK Hospitality has suggested the new law was a "retrograde step" as it believes the best way to raise awareness and keep consumers safe is to promote an active dialogue between businesses and customers.
This is a view shared by the British Sandwich Association (BSA), which says the move will result in "more danger to consumers with allergies rather than less as there is always going to be a risk of cross-contamination in food businesses with small kitchen areas", adding that small food businesses rarely have the technical knowledge to be able to provide the detail required to comply.
That's where bakery and ingredient suppliers come in, according to Ashbury Labelling.
"Many wholesale distribution companies now offer their customers an 'allergen tool' against which they can check the allergen content of an ingredient or product. If you use part pre-prepared ingredients – a ready-prepared sandwich mix for example – make sure you know what is in it by securing the information from the wholesaler, who in turn should legally have this information from the ingredients supplier," explains Pete Martin, regulatory affairs director at Ashbury.
He adds that it is important to maintain best practice by keeping staff fully trained so customers can obtain allergen advice to complement the labelling legalities.
"Always ensure all relevant staff know the ingredients in the food your bakery sells, and are advised, too, of any recipe changes or ingredient substitutions, so they are up to speed," Martin says.
Planglow, meanwhile, is highlighting its LabelLogic Live system as one solution to help businesses.
"LabelLogic Live is, in a nutshell, a really quick and easy way to create food labelling online (with as much or as little information as you require), then print using your existing desktop printer or roll printer," says Planglow marketing director Rachael Sawtell.