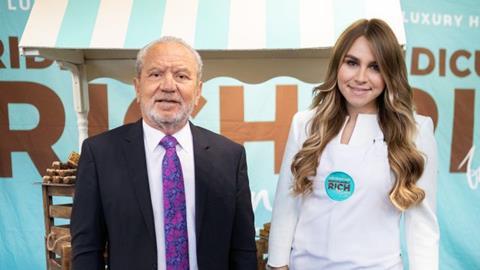 The Apprentice winner Alana Spencer has bought Lord Sugar out of her cake business, Ridiculously Rich by Alana.
In a statement on Twitter, the bakery entrepreneur said she had the opportunity to buy out Lord Sugar "a little while ago" and that it had been "an exciting, crazy, scary few months while the final details were being agreed".
Spencer had received a £250,000 investment and a 50/50 partnership with Lord Sugar following her victory in the show screened in December 2016. Spencer's business was originally called Narna's Cakes but swiftly rebranded following Lord Sugar's investment.
In this week's statement, Spencer described working with Lord Sugar as an incredible experience and that she had learned a lot in a short space of time. She said she was grateful for the guidance from Lord Sugar himself and also his "amazing" team.
"With new products on the horizon, dreams of opening my own bakery and small shop and expanding my team, it became obvious that now was the perfect time for Ridiculously Rich to become 'by Alana' only," Spencer added.
"I am now completely in charge of my own destiny and it is exhilarating! Here is to the next chapter of Ridiculously Rich by Alana."
Spencer also announced she is to open a new bakery and shop in Aberystwyth, Wales, later this year.