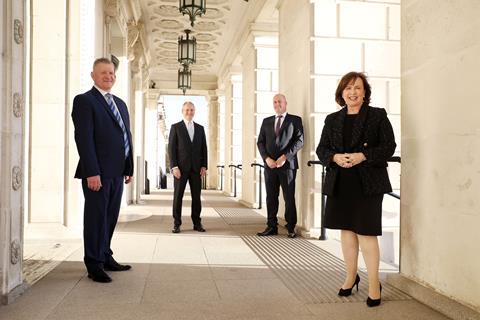 Pizza specialist Crust & Crumb is to invest £5.8m in its Fermanagh-based bakery.
The investment, which was announced by Northern Ireland's economy minister Diane Dodds, will allow the company to purchase new equipment, enhance automation and create an NPD kitchen.
The move will create 88 jobs over the next three years. The positions include general operative, health & safety and management roles.
"This investment will help us strengthen our competitive position, scale our business, improve efficiencies, expand our current pizza portfolio and drive our sales in new markets including Europe and Australia," added Clive Gilpin, group commercial manager at Crust & Crumb.
"We are also purchasing new equipment to enhance automation and extend our production and packaging areas with a new product development kitchen to develop a range of 'on trend' products."
Crust & Crumb supplies own-label pizza bases, pizzas, flatbreads and tortillas to supermarkets and foodservice customers in Northern Ireland, the Republic of Ireland (RoI) and Great Britain. The dough-based products are available in chilled, frozen and gluten-free variants.
In May, the firm was awarded a £24m annual contract by Lidl Northern Ireland to supply an expanded range of pizzas to more than 1,000 stores across the UK and Ireland.
"Over the years, Crust & Crumb has demonstrated substantial growth across its business with its innovative approach to new product development. This investment is welcome news for the local Fermanagh & Omagh Borough Council area and once in place, the 88 new jobs will contribute over £2 million in additional annual salaries for the local economy," said Dodds.
As the third announcement in recent months by firms within Northern Ireland's food & drink sector, added Dobbs, it will contribute to almost £17 million of investment and over 130 jobs in regional areas.
Economic development agency Invest Northern Ireland (Invest NI) has offered the firm £502,600 as part of the investment. Invest NI has worked in partnership with Crust & Crumb since 2012 to support the growth of its team, develop new products and increase exports.
"Investing in innovation and growing sales outside of Northern Ireland is not only crucial to the growth of our economy but also business survival. By investing in innovation Crust and Crumb has been able to develop new products, grow sales and now it is investing significantly in equipment and people to increase production and target new markets," added Kevin Holland, Invest NI's CEO.