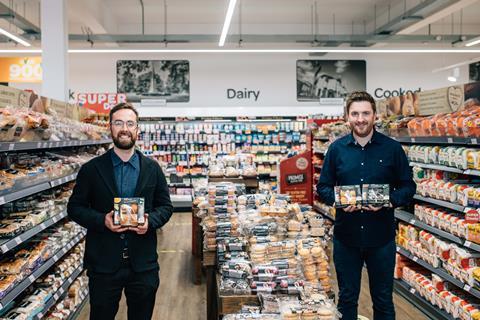 Henderson Wholesale has boosted Graham's and Scott's bakeries in Northern Ireland, while expanding its own-brand bakery range.
Based in Northern Ireland, Graham's and Scott's Bakery started working with the wholesaler to create speciality products for its own-brand range, Enjoy Local Bakery, in 2018.
Hendersons has just launched 12 new products comprising mini sponge cakes, individual tarts, a cupcake platter, toffee apple muffins, salted caramel pecan slices and cranberry caramel slices.
These join the Enjoy Local range of 139 products from 20 local suppliers across Ireland.
The range, which first launched in 2019, has expanded and is now expected to exceed £2.1m in retail sales, said the firm, four times the rate of the first half of 2019. This will enable Henderson to invest further in its local suppliers.
On the back of the Hendersons' business, Dromore-based Graham's has invested in its facilities and created six new jobs, to aid its 66-strong workforce, while Scott's Bakery in Fivemiletown has created three new roles to support its team of 230. Daily Bake in Armagh and Holme's Bakery in Portadown also supply the range.
"Enjoy Local Bakery started with six products over a year ago, we added 22 more in 2019, and thanks to the excellence of the bakers we work with, we've been able to expand to 42 products giving even more choice and value for our retailers and shoppers," said Eamon Taggart, trading manager at the Henderson Group.
The suppliers to the range also supported Spar and Eurospar NI's Pick Me Up Picnic initiative throughout August, which encourages shoppers to safely host a picnic and fundraise for the stores' charity partners, Marie Curie and the Cancer Fund for Children.
"When shoppers pick up any cake product from the Enjoy Local Bakery range until September 20, 10p will be donated from our suppliers and Henderson Wholesale to the charities. We're delighted to be part of the campaign that will help those organisations and their service users that have been adversely affected by the Coronavirus pandemic," he added.
Graham's and Scott's Bakery are regular suppliers to Spar, Eurospar and Vivo in Northern Ireland.