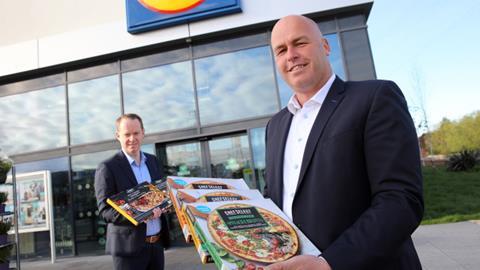 Crust & Crumb bakery has been awarded a £24m annual contract by Lidl Northern Ireland to supply an expanded range of pizzas to more than 1,000 stores across the UK and Ireland.
The 'dramatically expanded' supply contract will see the bakery supply 20 varieties of Lidl's Deluxe range of sourdough pizzas, six Chef Select pizzas and two variants for its Simply value range. Retail prices vary, starting at £0.49 for the Simply range and increasing to £3.29 for the Deluxe ones.
Based in Derrylin, Fermanagh, Crust & Crumb has been a preferred long-term supplier for Lidl Northern Ireland since 2013. The partnership has helped create 160 full-time roles.
"From small beginnings in 2013, we've built an outstanding relationship with Crust & Crumb and are thrilled this new contractual arrangement will bring its great-tasting, quality, locally-made products to thousands of new consumers in stores across the UK and Ireland," said Conor Boyle, regional director of Lidl Northern Ireland.
The bakery, described as Ireland's largest manufacturer of ambient, frozen and chilled dough-based products, has two major production facilities in Derrylin, Co Fermanagh – one of which is a gluten-free site. It also operates a site in Ballyconnell, County Cavan, which opened last year.
"We're delighted to expand our partnership with Lidl Northern Ireland as part of a significant investment, which supports our plans for continued growth," said Mark McCaffrey, sales & marketing director at Crust & Crumb.
"This partnership has enabled us to access new markets and expand our customer base across the UK and Ireland and it supports our ambitions for export sales to additional EU markets later this year."