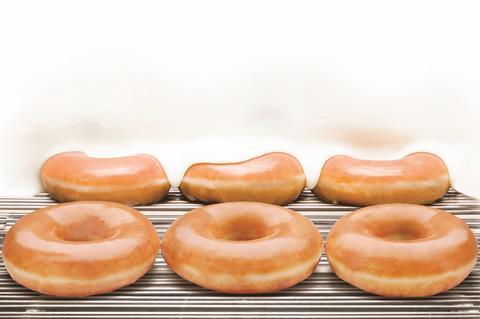 Krispy Kreme UK is forging ahead with plans to open shops in "quality, high profile" locations in 2020 and beyond despite the impact the coronavirus pandemic has had on the market.
In its full accounts for the year to 29 December 2019, the business said that its ambitious growth plans had been interrupted in the short term and it had taken the decision to close a small number of its shops. However, it plans to expand its retail presence in 2020 and beyond.
It added that investment in digitally enhanced cabinets, further developments of ecommerce and boosting manufacturing capacity will help enhance customer experience in the long term.
Prior to the pandemic, Krispy Kreme's annual revenue hit £94.1m – an increase of 13.3% on the year to 30 December 2018. Operating profit for the year was £7.3m, slightly down on 2018's £7.5m.
Adjusted EBITDA for the period was £14.9m compared to £13.2m in 2018. As such, 2019 was considered "a highly successful year in which the foundations were laid for future growth plans".
At 29 December 2019, the company operated 123 retail locations across the UK, with nine shops opened and a further nine shops closed over the year. It also grew sales in delivery and online.
However, the company was forced to temporarily close its operations in March 2020.
"These unprecedented conditions and in particular the lockdown measures taken in March 2020 by the UK government have interrupted our ambitious growth plans in the short term, with the temporary closure of all of the company's manufacturing and retail locations and a short pause in delivery to our off-premise partners," the company stated.
"The company took rapid and decisive action to instigate new ways of working in all areas of the business, focusing on the safety and wellbeing of employees while simultaneously re-igniting the Krispy Kreme experience for customers and was able to reinstate manufacturing and the off-premise business very quickly, followed by the re-opening of retail in line with government guidance."
Krispy Kreme also reduced its cost base and minimised operating cash flow as much as possible, including participation in the Coronavirus Job Retention Scheme.
Looking forward, the directors have a "reasonable expectation that the company has adequate resources to continue in operational existence for the foreseeable future", it added.