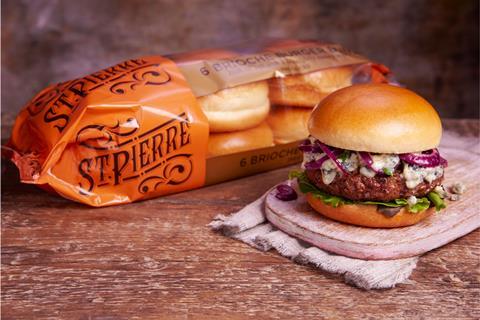 St Pierre Groupe global sales surpassed £150m in 2022, a leap of over a third compared to the previous year.
In its published accounts for the year ending 31 December 2022, the bakery business – which produces St Pierre, Baker Street and Paul Hollywood brands – reported total revenue £150.7m, marking a 35% increase from the £111.5m set in 2021.
UK sales rose by a fifth for the company headquartered in Didsbury near Manchester, going from £54.4m to hit £65.5m last year. This was said to have been boosted by successful new product launches (five from St Pierre and two from Baker Street), better distributing to major retailers, and improved wholesale.
While Europe only saw a marginal increase, the biggest gains for the business were recorded across the rest of the world, with sales shooting up by more than 50% to reach £81m. This signified a shift to the US as its biggest market now, with the St Pierre brioche brand having launched in Walmart stores across America last year.
As reported earlier this year, substantial sales growth for the business has continued into the first quarter of 2023 as well.
However, despite its soaring revenues, St Pierre Groupe noted that "trading conditions throughout 2022 were volatile" with its EBITDA dipping from £7.7m to £7.5m in 2022 as price increases across its product range struggled to keep up with rises in costs associated with producing and distributing its goods.
The business slumped to an operating loss of £20m for the year compared to a £7m profit recorded in 2021. This was said to be predominantly caused by an accounting charge of £23.2m in respect of "share-based payments connected to the acquisition of the company" by Grupo Bimbo in September last year.
A St Pierre spokesperson said that the company had once again delivered impressive growth in 2022, culminating in the business joining the Grupo Bimbo portfolio.
"The St Pierre brand is driving growth in all markets, as a premium, quality offering and 2023 is shaping up to be another strong year for us. In fact, the brand is up almost 84% in the UK in the last 52 weeks," added the spokesperson, citing Nielsen UK Total Coverage data to 9 September 2023.
In the 'Fair review of the business' section of its 2022 results, St Pierre said it had continued to invest in its people and infrastructure, ending the year with a headcount of 80 and investing in new IT capability and a state-of-the-art kitchen to facilitate its in-house content production. David Wagstaff was made group managing director last December.
"We have superior quality products, a passionate, dynamic team and the full support of the world's largest bakery business in Grupo Bimbo," commented the spokesperson.