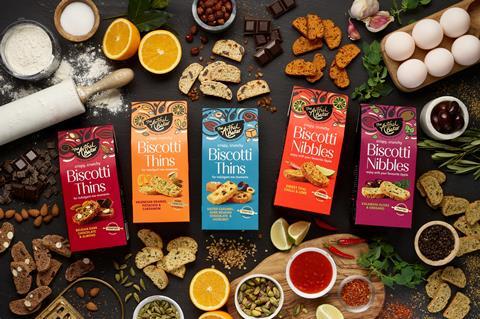 Warburtons has backed biscuit manufacturer The Artful Baker with a six-figure investment as part of the Batch Ventures innovation fund.
It is the first of several investments that the 50:50 joint venture with independent business accelerator Mission Ventures expects to make this year, it said.
Batch Ventures was set up last year to back businesses producing innovative bakery products. It combines equity funding together with hands-on support from successful entrepreneurs and industry professionals, it added. It takes a minority stake-holding in businesses it approves and typically plans to invest between £50,000 to £250,000.
Following its launch, it received more than 80 expressions of interest from UK companies with nearly half of these (46%) specialising in snacks while 21% were involved in the gluten-free market.
Based in Dorset, The Artful Baker produces a range of sweet and savoury biscuits, Biscotti Thins and Biscotti Nibbles.
"We were impressed with The Artful Baker's quality of products and level of innovation and see a great opportunity to support their growth plans. Working with Mission Ventures and using Batch as a vehicle for small investments in a portfolio of promising brands give us an opportunity to support early stage entrepreneurs," said Jonathan Warburton.
"We're excited to be partnered with Batch Ventures and see the support they provide as a great step forward on our journey of scaling the business, both here in the UK and via export trade. We already supply our biscotti to Italy and are seeing increased interest from buyers overseas," added Paul Rostand, founder and CEO of The Artful Baker.
The investment represents a new approach to backing SMEs and start-ups working in and around baked goods, according to Batch Ventures.
It also expects to announce a second investment this month and is actively seeking new investment opportunities to back British enterprise.