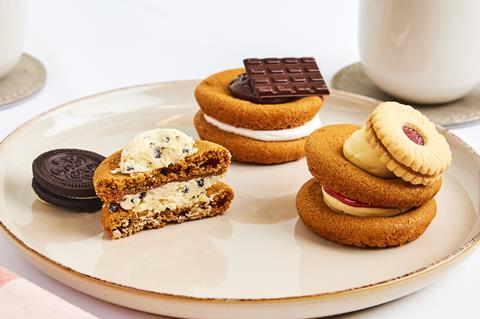 Tesco is hopping on the hybrid bakery train with the launch of Cookie Cakes.
Part of the retailer's Finest own label range, the treats combine the 'soft, chewy texture of a cookie, with the layers, fillings and visual appeal of a cupcake', Tesco said.
They are available in three variants:
Jammie Cookie Cake – it is packed with vanilla buttercream filling, a layer of raspberry jam and topped with a classic jammie shortcake biscuit
S'mores Cookie Cake – it embraces the flavours of a classic American campfire snack and is filled with chocolate buttercream and vanilla marshmallow
Cookies n' Cream Cookie Cake – it is filled with cookie crumb buttercream and topped with a milk chocolate sauce and hand finished with a cookies 'n' cream biscuit.
The Cookie Cakes launch in stores and online from the w/c 11 July with an rsp of £1.75.
Hybrid bakery items continue to win over consumers and, as such, manufacturers and retailers are rolling out NPD to suit. Recent examples include a Gimme S'mores Cake from Costa which combines cake, s'mores and brownies, as well as a Loaded Brownie Cake from Asda's summer range and a Hot Cross Scone which hit the shelves as part of Tesco's Easter selection earlier this year.
Tesco is also tapping into demand for indulgence with other new additions to its Finest range including Scandi-style Cinnamon Buns which are hand rolled in sweet cinnamon sugar, and Hazelnut Praline Cookies which contain chunks of Belgian dark chocolate, caramel and caramelised hazelnut.
It has also added a trio of muffins in Sicilian Lemon Curd, Triple Chocolate and Victoria Sponge variants which are filled with lemon curd, chocolate sauce and strawberry jam, respectively, and topped with lemon buttercream, chocolate chunks or clotted cream buttercream.