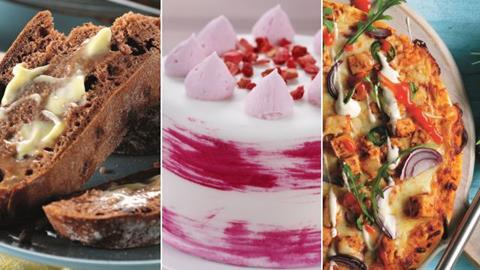 Asda is getting in on the premium doughnut action as part of its summer 2019 range, which also features loaded brownies, chocolate bread and a narwhal cake.
The range features items suitable for a host of occasions, from barbecues to birthdays, as well as indulgent snacking, with doughnut-shaped burgers designed to be enjoyed on top of bagels, under-the-sea themed gummy sweets and botanical gin available alongside the new baked goods.
Asda's celebration cake range is heavily themed around on-trend animals with a llama, shark and narwhal joining the range and further extension of the unicorn craze.
Here are some of the highlights:
Shark Cake
Cakey shark doo doo doo doo doo doo… This cheeky celebration cake is likely to go down well with fans of the familiar children's song. Made from a soft Madeira sponge with a layer of sweet jam, it's covered with icing to depict the shark's face. It's joined on shelves by a kawaii-inspired Narwhal Cake complete with rainbow-coloured horn.
Extra Special Doughnuts
Asda is giving doughnut specialists a run for their money with its new three-strong range of premium doughnuts. Priced at £1.80 for a pack of two, the filled treats are available in three variants – Salted Caramel, Chocolate Indulgence and White Choc & Raspberry. For added decadence, each is loaded with toppings such as caramel pieces, malted chocolate balls, white chocolate and freeze-dried raspberry pieces. They will be available from mid-June.
Until now, Asda has sold other premium doughnuts in the form of three-packs, priced at £1.30. However, at double the price per doughnut, this NPD represents an extension of the trend. British Baker subscribers can find out more about how supermarkets are tackling premium doughnuts by reading our feature here.
Extra Special Chocolate Bread
Breakfast time just got a little more special. This chocolate loaf is made using a combination of milk and dark chocolate for the "ultimate chocolatey flavour" before being packed with chocolate chips. Asda suggests serving it in the morning with some fresh berries or hazelnut spread or toasted with a spot of butter and jam.
Pretty in Pink Cake
No, this isn't a homage to the '80s teen drama flick, it's the new addition to Asda's grown-up offering described as the "ultimate summer celebration cake". Like the other NPD, it has a Madeira sponge at its heart, but is covered with white icing and scattered with dried pieces of strawberries and pink frosted decorations. The retailer suggests serving it at a "glorious afternoon tea in the summer sun".
Chicken Kebab Pizza
Asda is expanding its range of pizzas with a takeaway-inspired mash-up in the form of a Chicken Kebab Pizza, priced at £2.50. Launching in June, it is loaded with hot and spicy chicken, red onions and fresh jalapeños, topped with a drizzle of creamy garlic mayonnaise and hot chilli sauce.
Extra Special Brownies
It's what's on top that counts, particularly when it comes to brownies. That's Asda's thinking at least as it extends the trend for premium toppings into brownies. Available from the start of June, the indulgent chocolate brownies come in four variants – Salted Caramel, Banoffee, Cookies & Cream and Red Velvet – which are each topped with a layer of frosting, as well as the likes of malted chocolate balls, cookies and even more brownie.
Llama Cake
Llamas are giving unicorns a run for their money when it comes to sweet treats. To tap this trend, Asda has added a Llama Cake to its animal cake kingdom. The bright pink frosted fellow features layers of Madeira sponge, sandwiched with a fruit plum & raspberry jam decorated with a face, ears and mane, which, according to Asda, makes for a cake with the "wow factor".